Updated on April 8, 2022by Ivo Iv
Fresh herbs are an irreplaceable source of flavor and healthiness. Used as a dressing, they make the presentation of any dish more elegant and appealing.
Besides their usage in cooking, growing them will provide further advantages like repelling insects, spreading aromatic scents and adding beauty to space.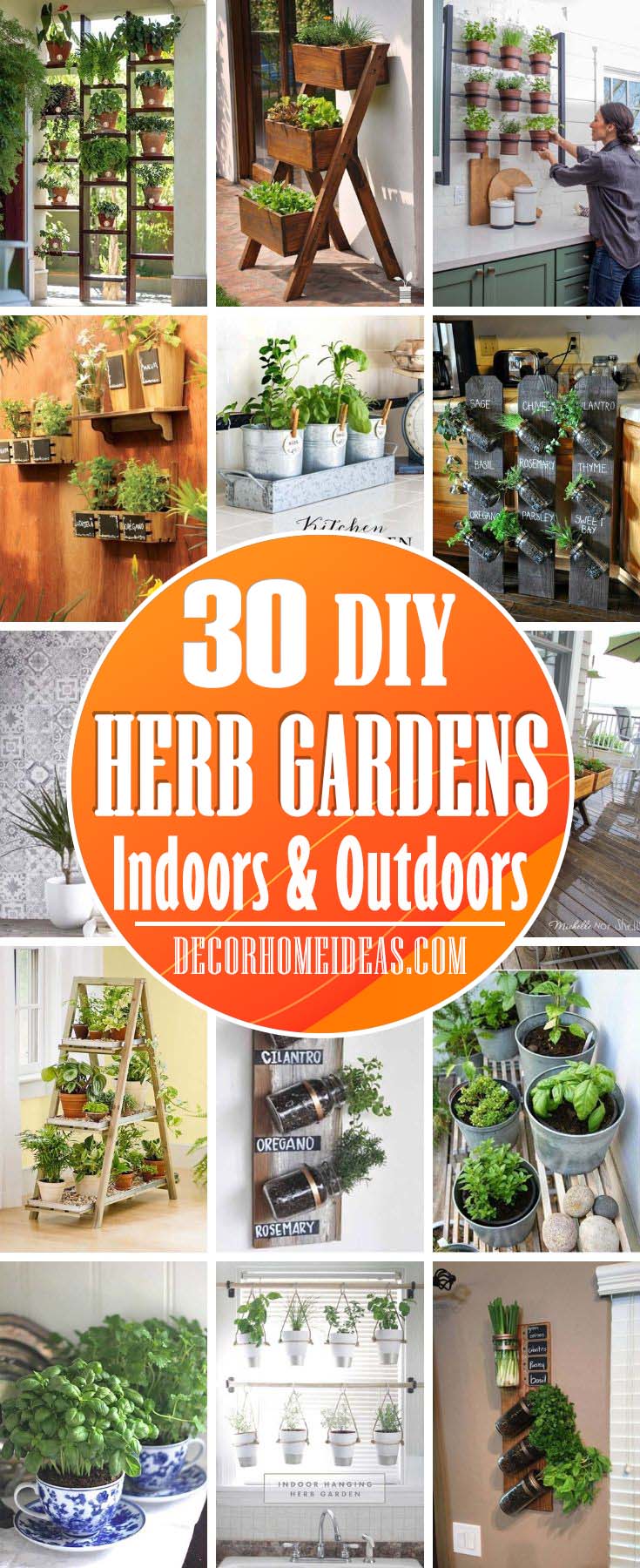 Growing herbs isn't difficult at all and any person, even a beginner in gardening, could easily take care of a wide range of herbs indoors or outdoors.
The list below gives creative ideas on how to display your herb garden indoors or outdoors so that fresh herbs are always available.
1. A-Frame Shelf Herb Garden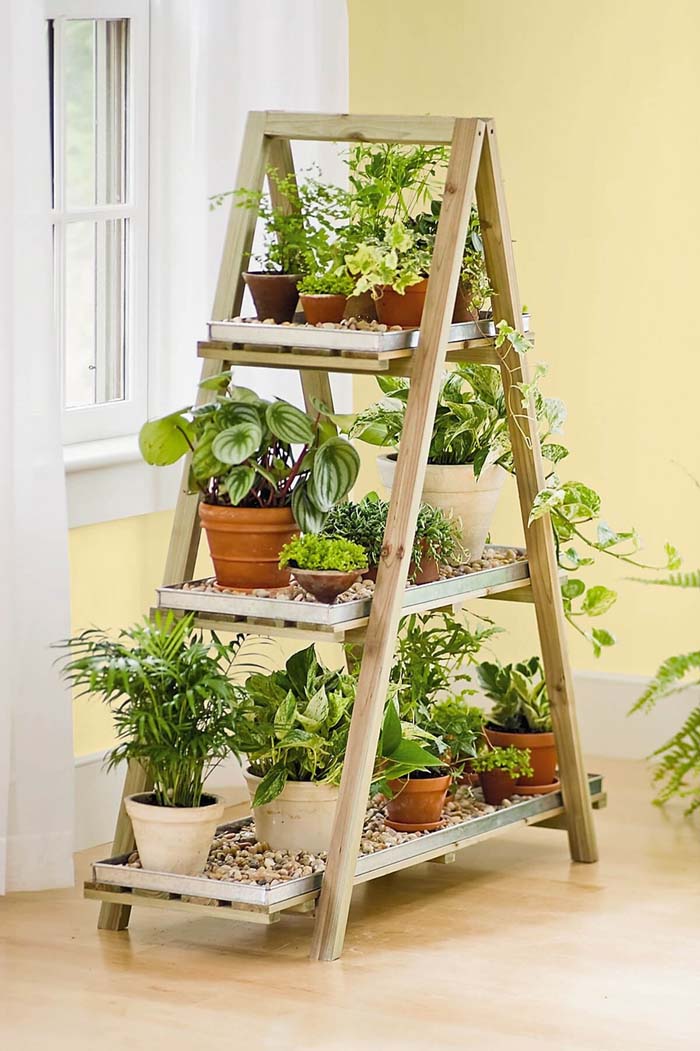 An old ladder or a quickly hand-made ladder structure is an interesting and functional way to display herbs both indoors and outdoors.
via Craftionary
2. Built-In 'Mini Bookshelf' Herb Garden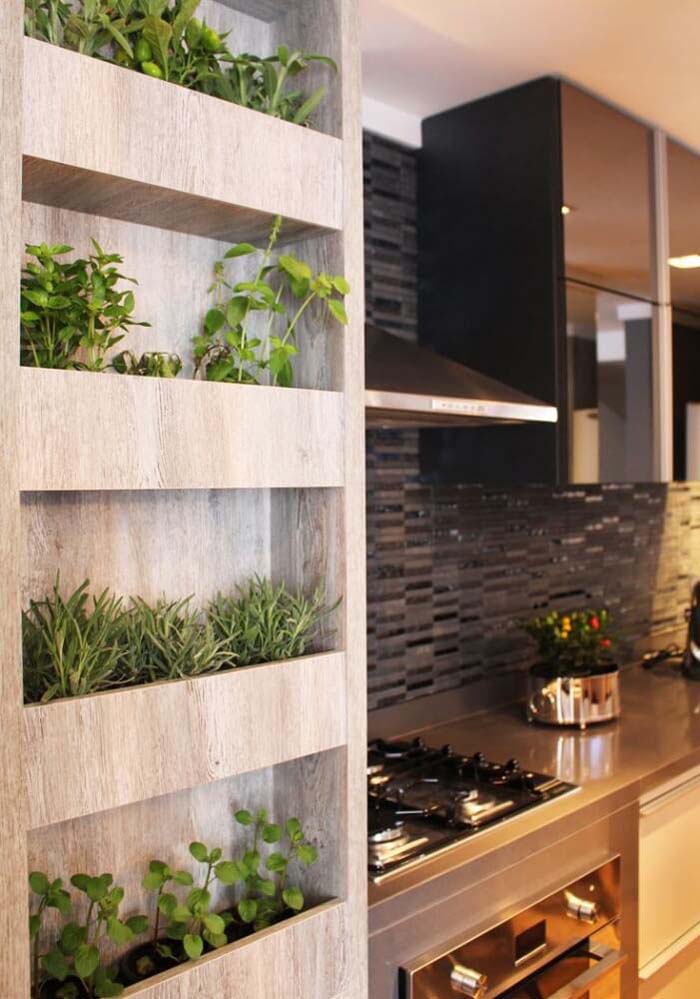 Culinar addicts will reach the pinnacle of happiness if fresh herbs are at an arm's length from the oven.
A built-in bookshelf can be repurposed and used as a herb garden.
via Habitissimo
3. China Tea Cup Mini Herb Garden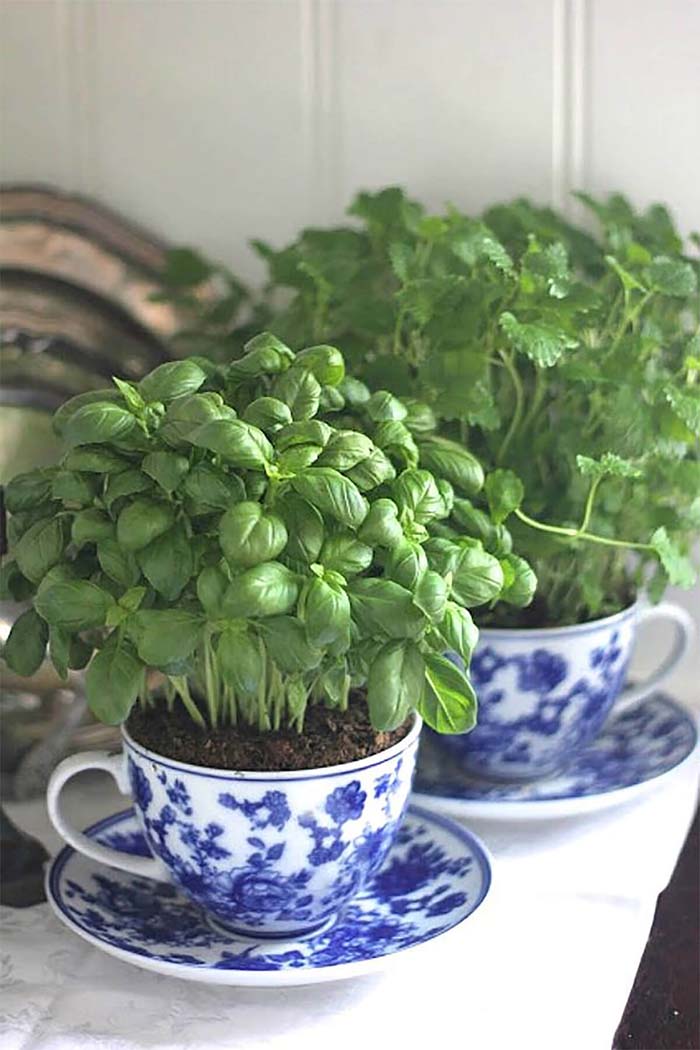 Herbs can be planted in China teacups.
The tufts they will make in the small space they grow in would look beautiful in the kitchen interior, especially next to a window.
via Creative Juice
4. Coffee Tin Makeover Herb Garden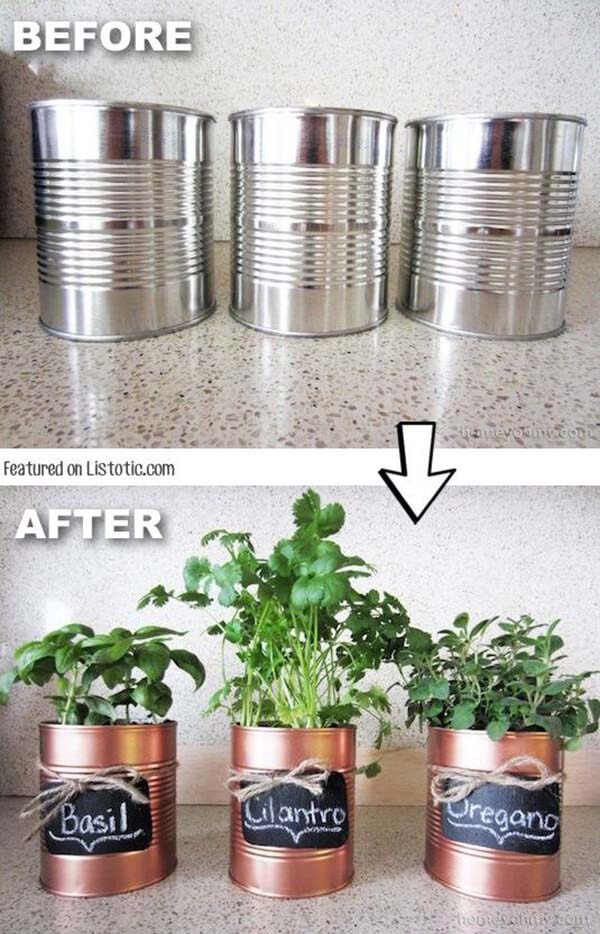 Old cans can be used for various storage ideas. With the help of some copper paint and hand-made nameplates, you can make herb grow containers suitable for a country house interior.
via Homey Oh My
5. Curtain Rod Hanging Herb Garden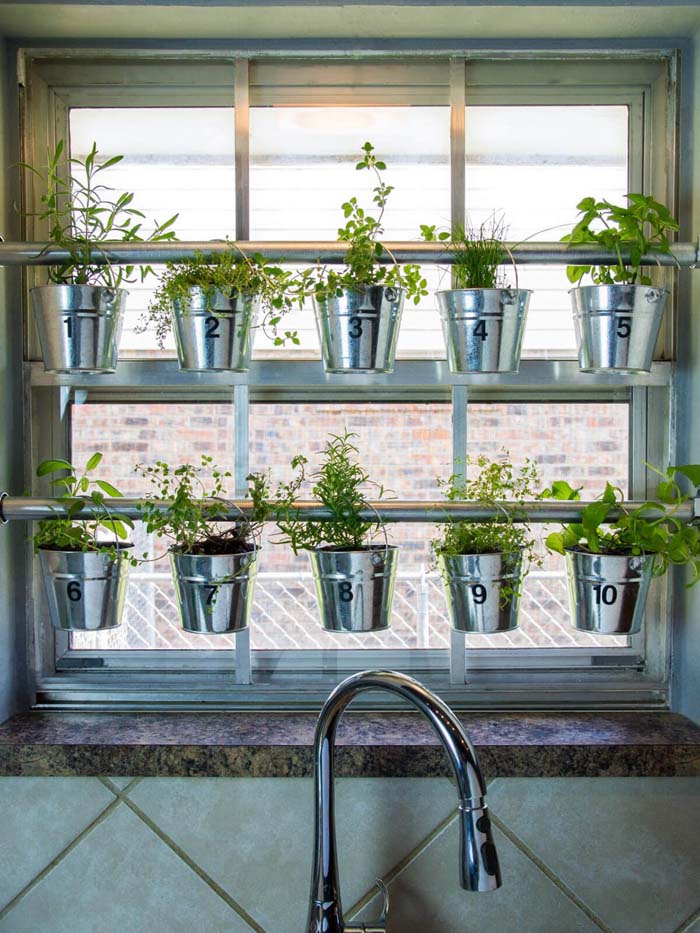 Ikea curtain rods are very practical as they can be used for other living spaces and purposes.
Attached to a window in the kitchen, you can hang and take care of different herb buckets.
6. Decorative Wooden Box and Vase Herb Garden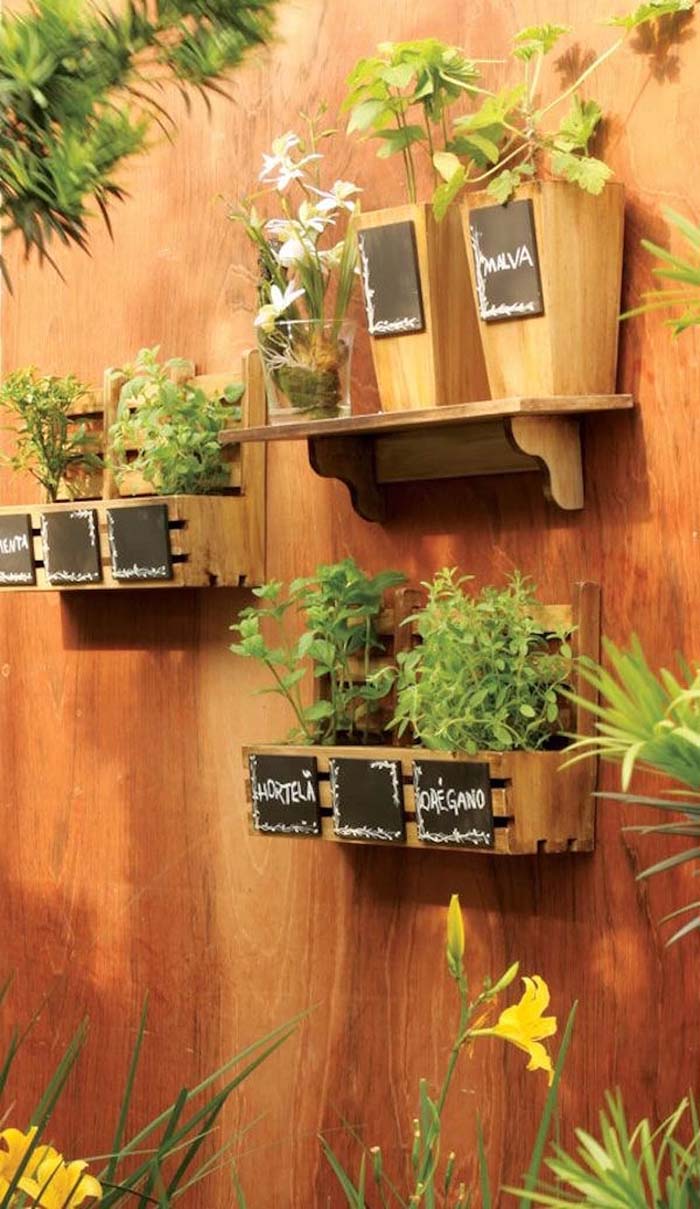 Small outdoor herb garden using decorative wooden vases and shelves.
Vertical space on the fence is utilized in a charming way.
7. Fountain of Herbs in Tiered Metal Tubs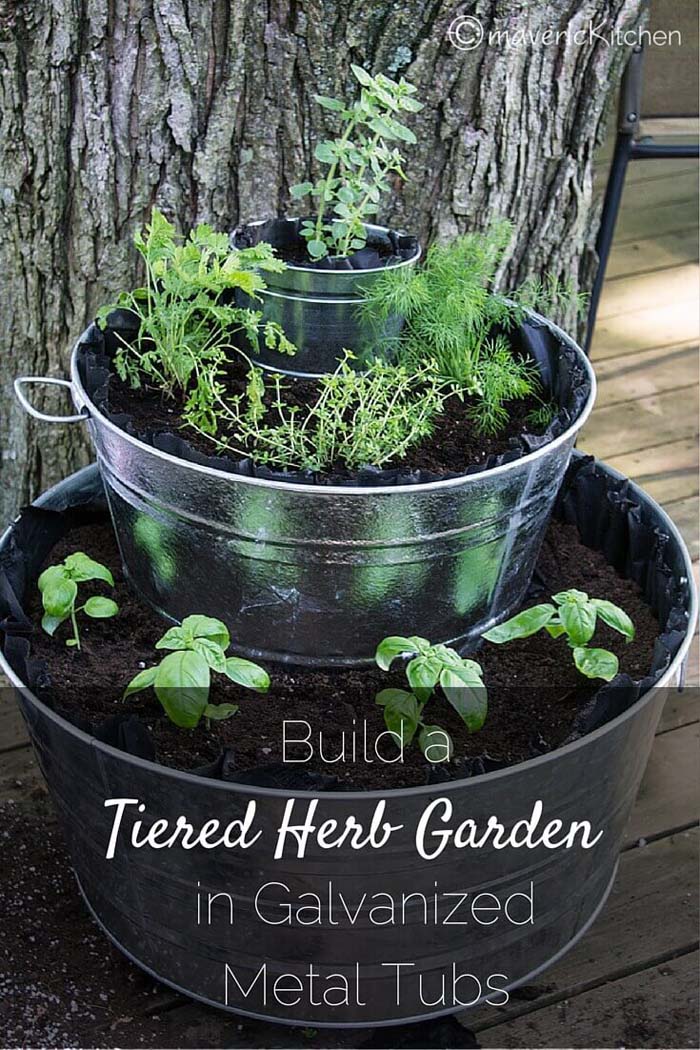 The tiered way to grow plants is suitable for small spaces indoors and outdoors.
Three stacked metal tubes of different diameters are sufficient to grow at least three types of herbs.
8. Fresh and Dried Chalk Wall Herb Garden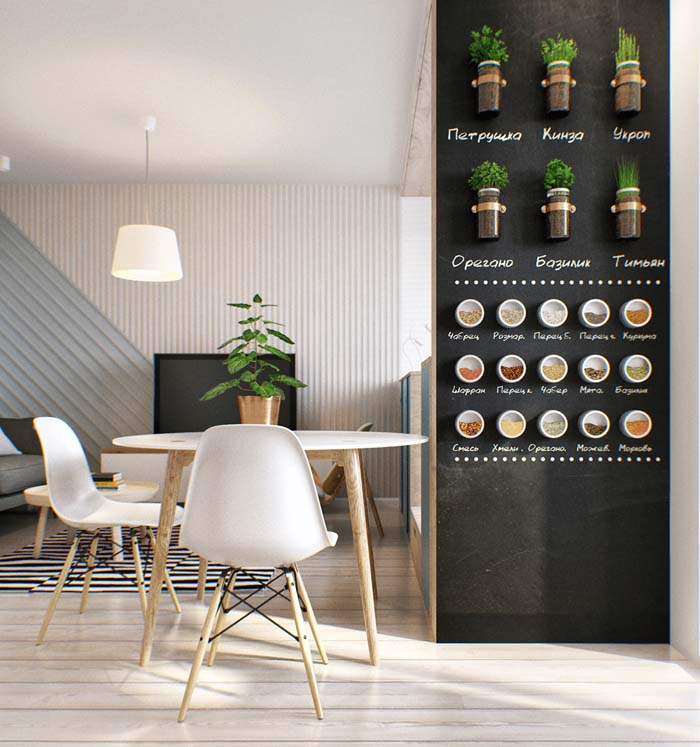 Utilize an empty wall of the kitchen by making it a display and storage area for fresh and dried herbs.
The fresh ones are grown in glass jars and are attached to the wall with bronze strips.
9. Hanging Jar Herb Garden 'With a Twist!'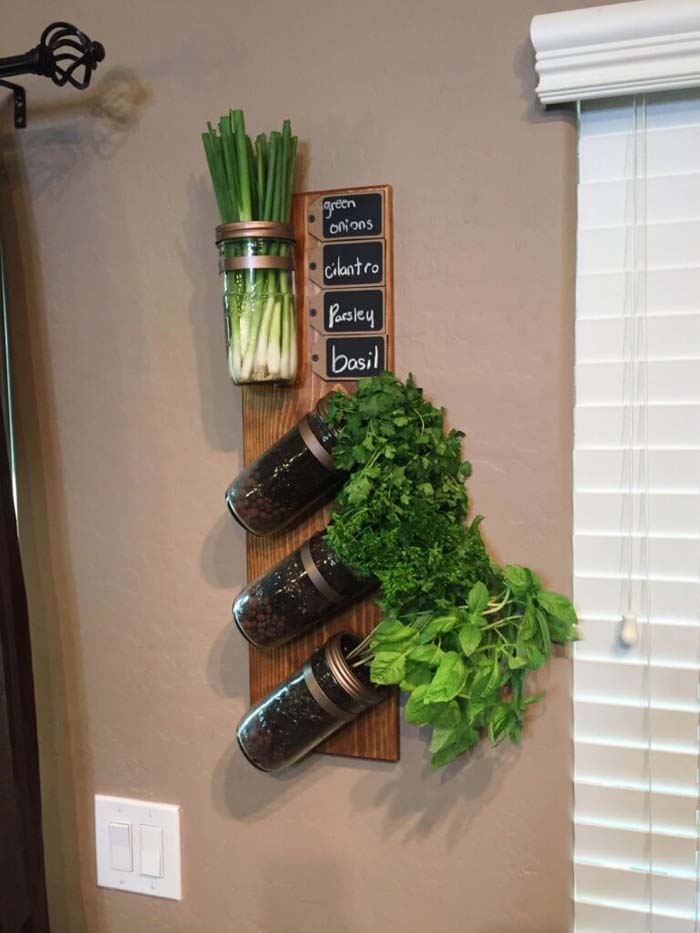 An easy way to DIY a fresh herb indoors garden is to attach metal pipe clamps to a wood board.
Insert jars with planted herb seeds and add plates with the herb's name.
10. Hanging Shelves Herb Garden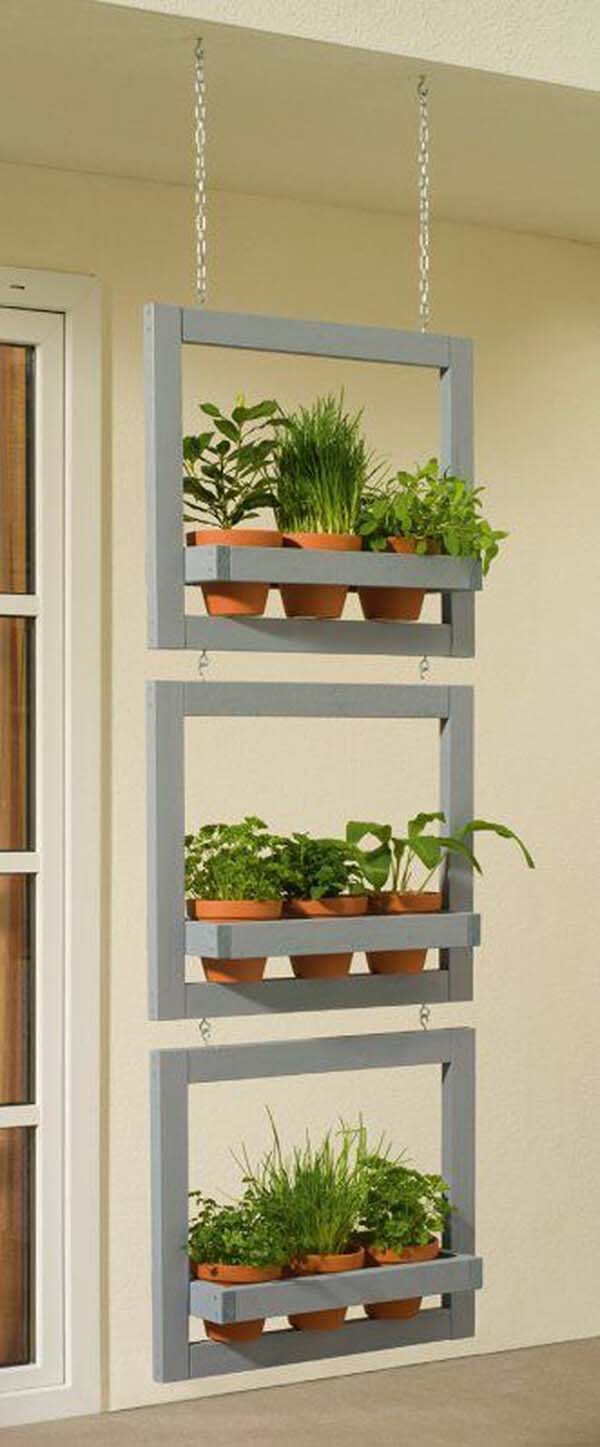 This artistic swing garden is an attractive way to grow fresh herbs indoors or outdoors.
Follow the instructions on the link below to make one yourself.
via Kreativ Welt
11. Herbs in a Jar

You can make a "mobile" herb garden by planting herb seeds in mason jars stored in a holder.
via Crafts Unleashed
12. Kitchen Shelf Herb Garden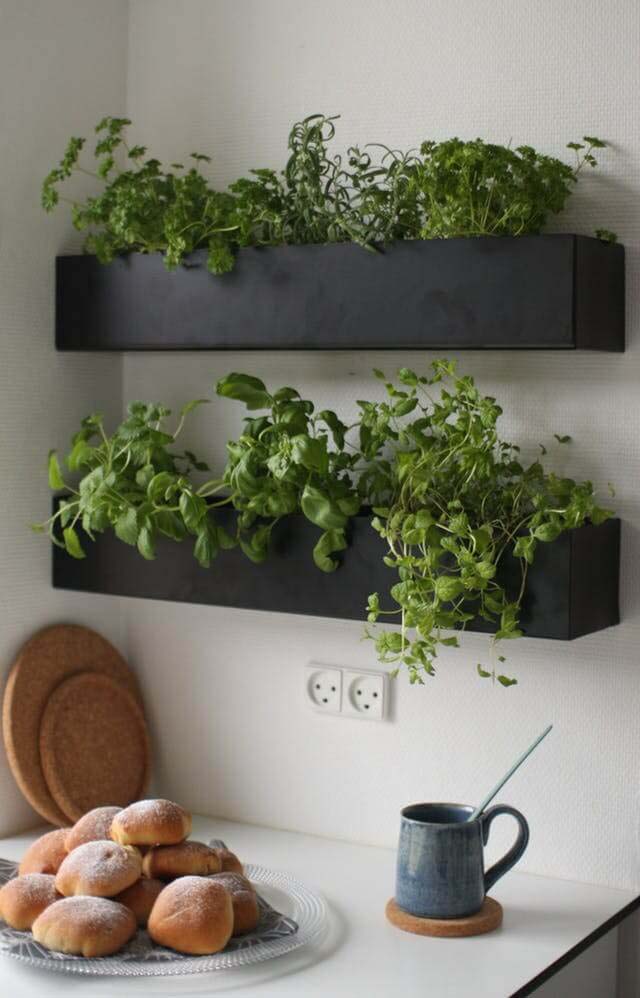 Stainless steel shelves are great for vertical gardening indoors and outdoors.
You can easily detach them from the wall and bring the fresh herbs to your dining table.
via Purple ID
13. Ladder Box Herb Garden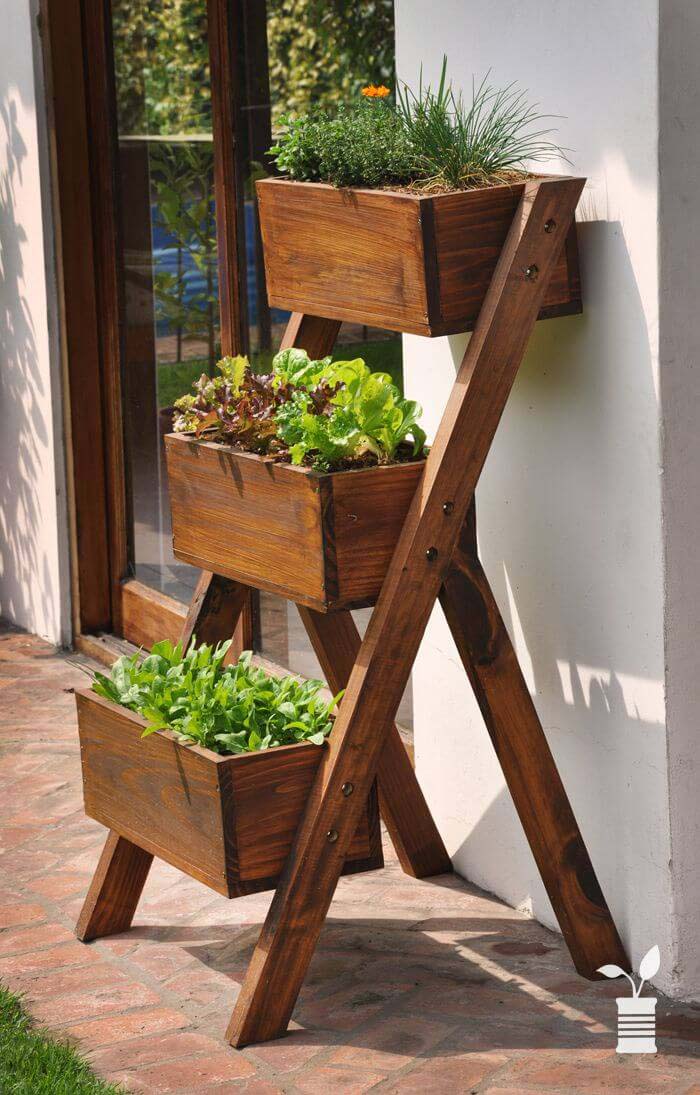 The steps of a ladder are modified into wood boxes that are filled with soil.
This fresh herb garden will look amazing in the backyard.
via Pinterest
14. Ladder-Style Sunny Window Herb Garden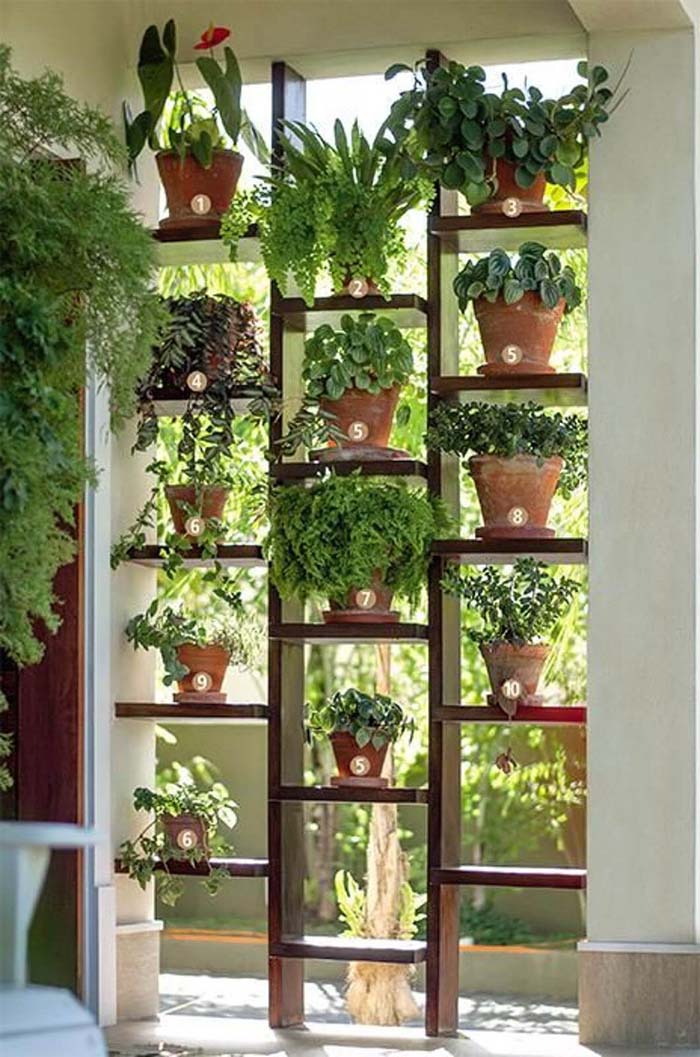 The space of a window can be used to fix an asymmetrical ladder-like stand for fresh herbs and plants.
The natural light will facilitate the growth of the herbs.
via Estilo & Deco
15. Mounted Mason Jars on Wood Panel Herb Garden

Another way to grow herbs indoors is to plant them in Mason jars and display them in this funny inclined way on a distressed upcycled board.
via Camille Styles
16. Nature-Inspired Driftwood and Tin Hanging Herb Garden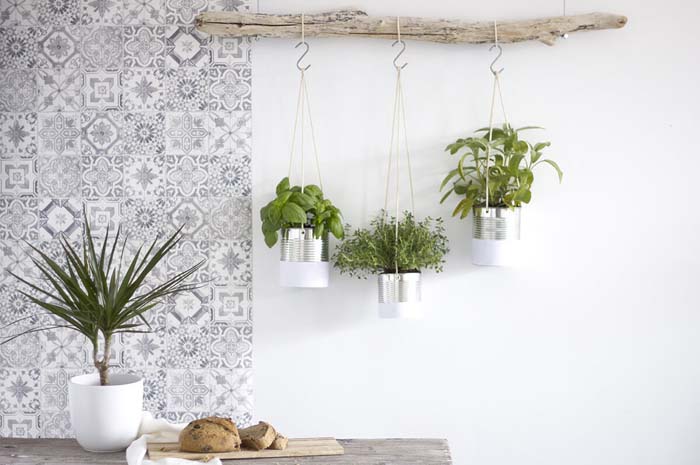 Welcome nature and grow naturally in your home.
Attach driftwood to the wall and hang a few beautifully decorated cans with fresh herbs.
17. Painted Pots Hanging Herb Garden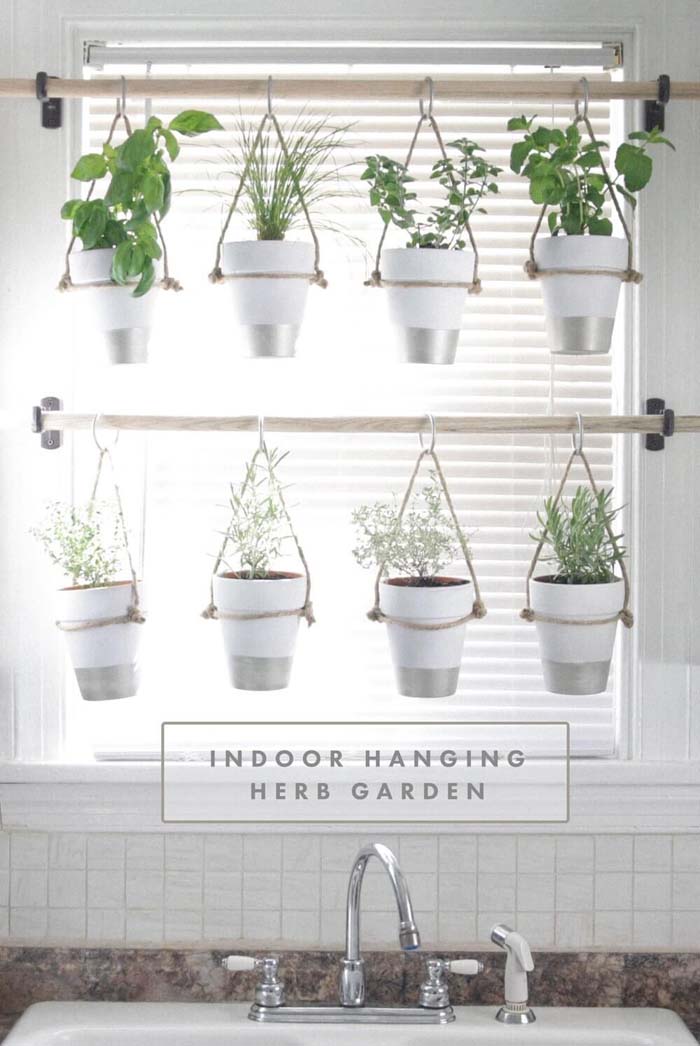 This hanging herb garden looks great because of the fine details.
The metal accent on the bottom of the pots and the metal rings match the kitchen utilities and make the rod garden perfect for the interior.
18. Pretty Little Pails Herb Garden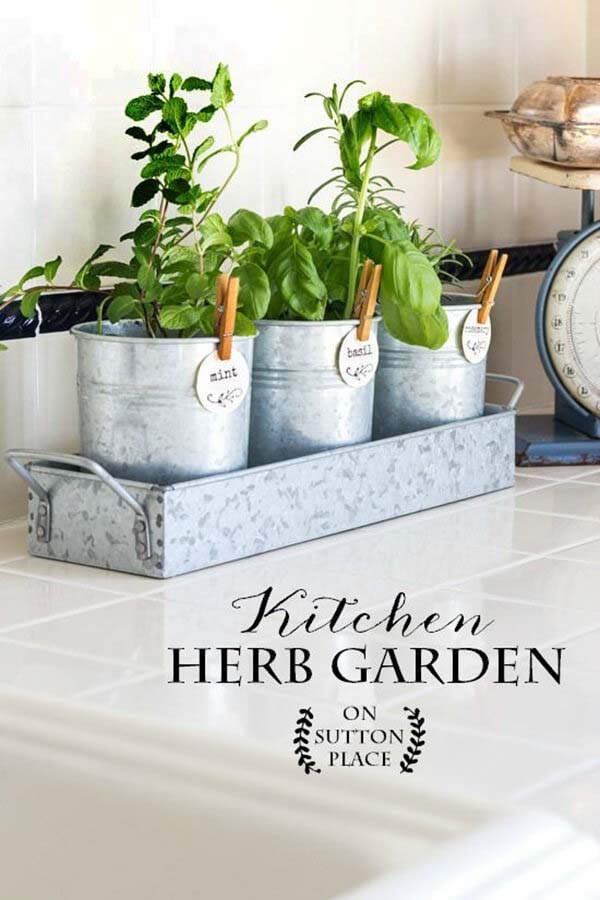 This farmhouse-style herb garden can be put together in just a few minutes!
The planting set is a shop-made item but you can upcycle old cans or glass jars and achieve a similar effect.
via On Sutton Place
19. Rustic Three Tiered Herb Garden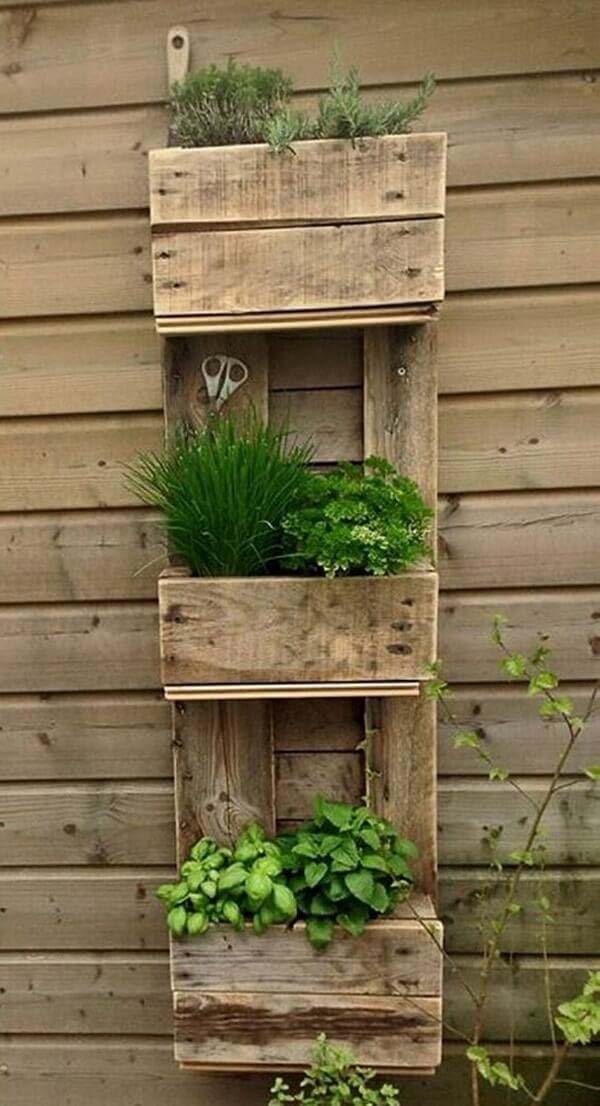 Making this cute rustic vertical herb garden requires only cutting a plain wood pallet in two and closing the bottom of the box sections.
It is suitable for outdoor exposure, however, with some touch-ups, it can be changed to an interesting indoor garden.
20. Shabby Chic Painted Mason Jar Herb Garden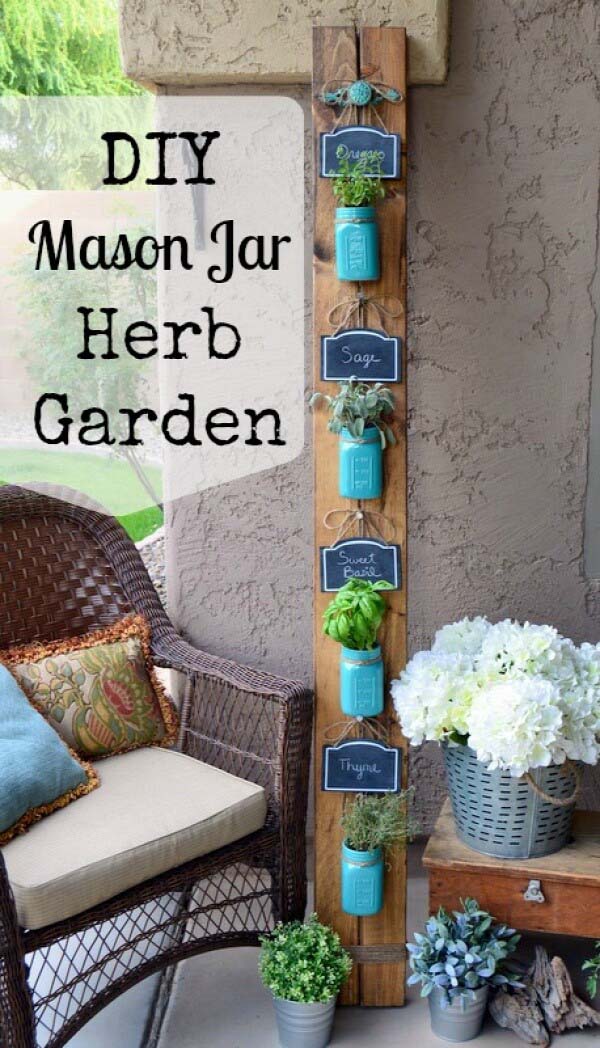 If you are short of space, you can also find the perfect herb garden for you.
This rustic display is vertical and can store at least 4 herb types. It also makes a great gift to any homeowner.
via Home Remedies
21. Stacked Wooden Shelves Herb Garden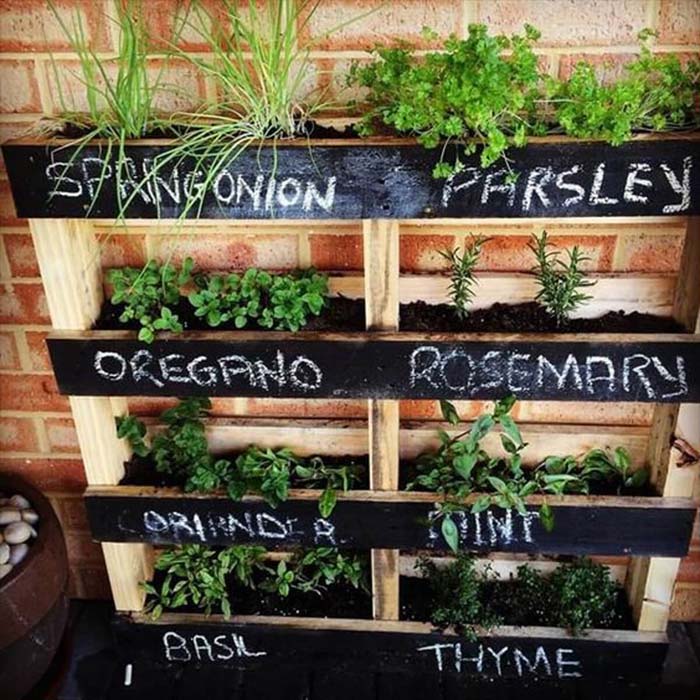 An easy and quick vertical pallet garden that can be used as a rustic centerpiece in any backyard because of its beautiful and natural herbs grown in.
via 99 Pallets
22. 'Step-Up' Herb Garden

Even the apartment balcony deserves a herb garden. Due to space limitations, it will be best to use the vertical space thoughtfully as shown above.
This beautiful stand is shop-made but with some creativeness, you can easily make a copy of it.
23. Three-Way Sun Room Herb Garden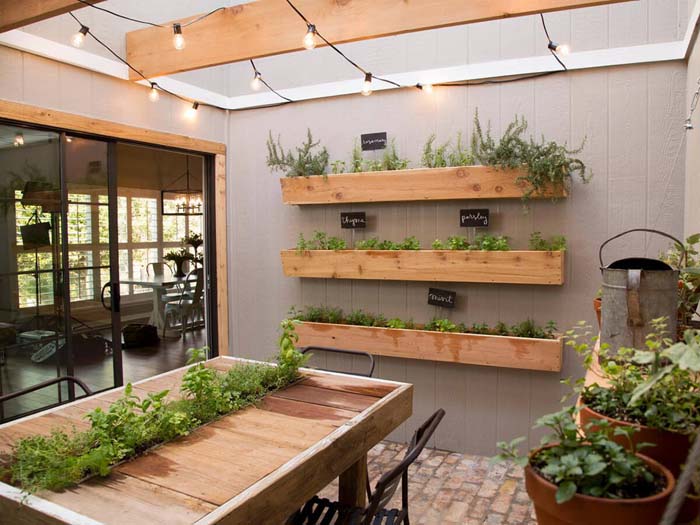 This is a contemporary way to grow your own herbs in a sunroom – in a table slot, in large wood framed shelves on the wall and in pots arranged on a hung board.
24. Up-cycled Fence Post Vertical Herb Garden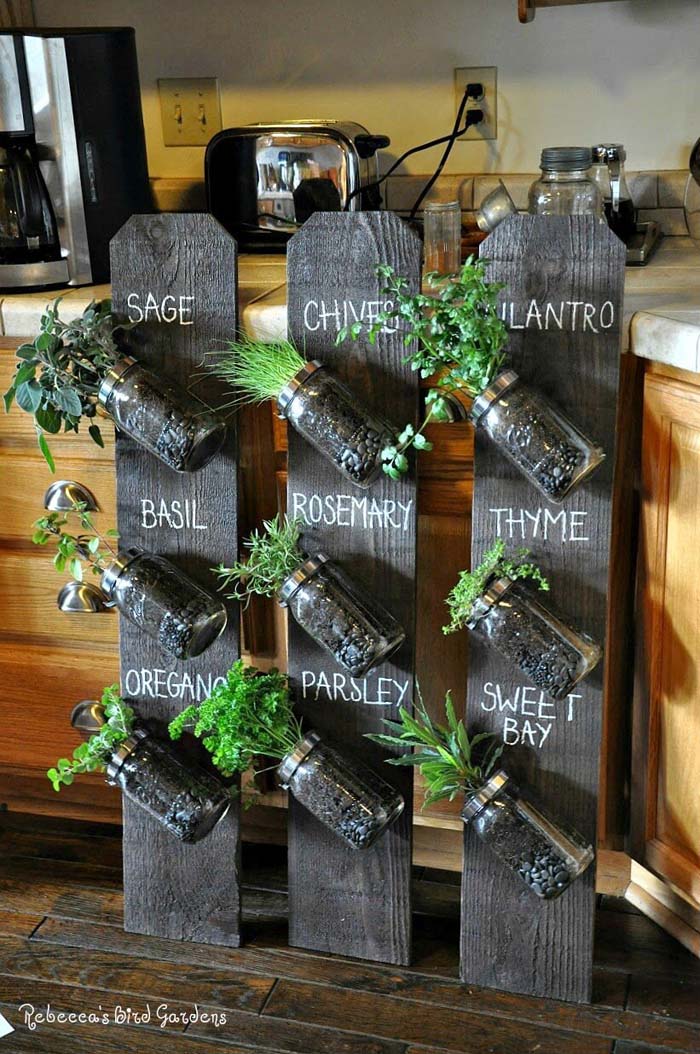 Take as many cedar boards as you would like to and stain them in dark.
Attach pipe clamps and insert Mason jars with herbs planted in. You can increase the number of grown herbs depending on the space you have.
25. Vertical Hanging Tins Herb Garden

Adding chains to a hanger made of upcycled cans will add a herbs' beauty to an industrial interior.
26. Vintner-Inspired Wine Box Herb Garden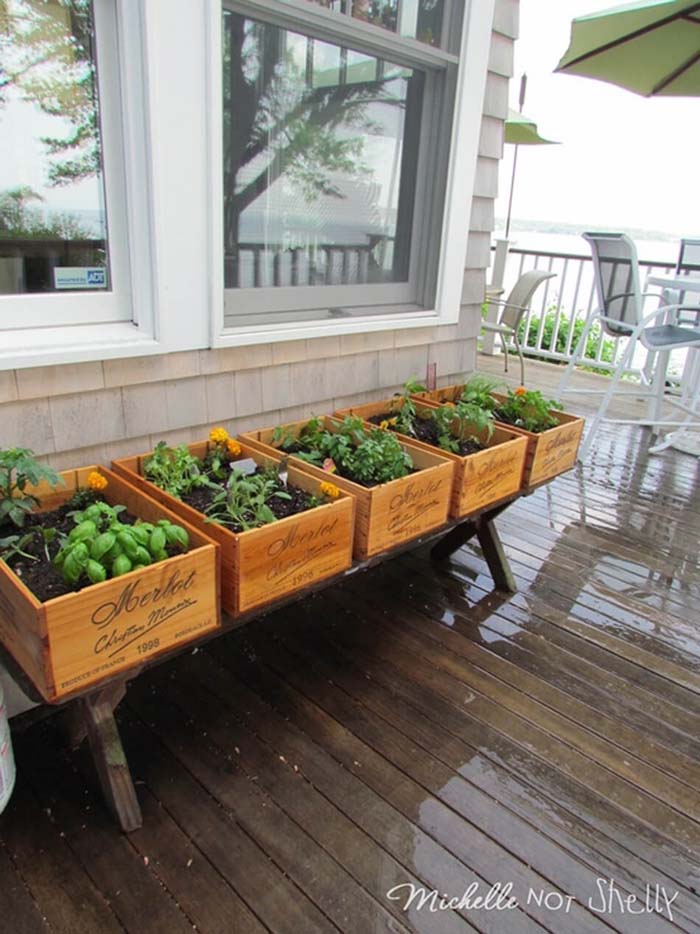 If there is free space on your deck, you can easily make a beautiful herb garden.
Crates, wine boxes, corrugated metal boxes are all suitable to store a lot of herbs.
27. Wall Hanging Potted Herb Garden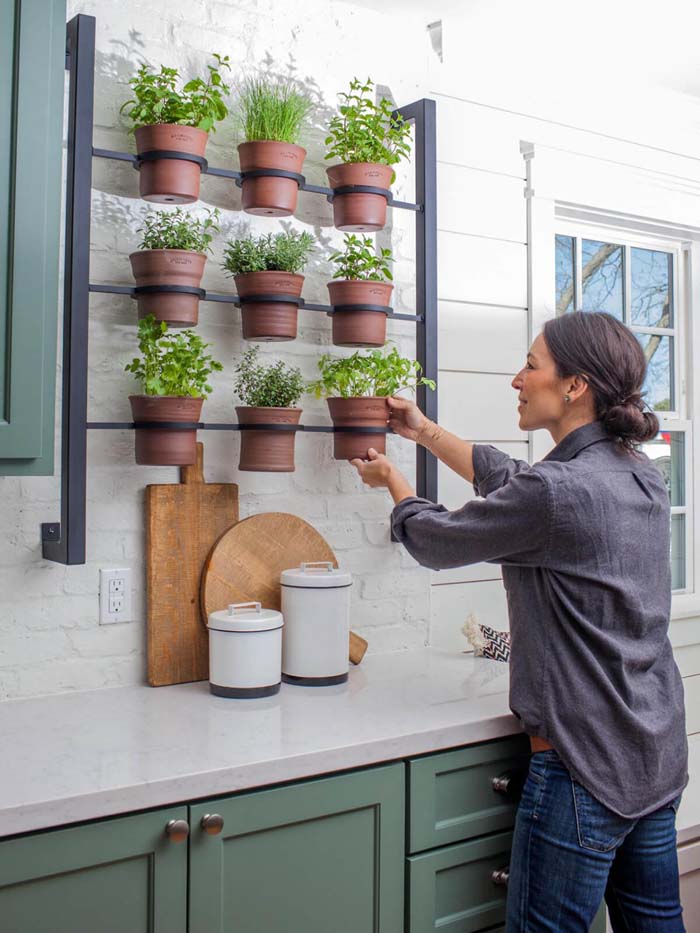 This is a specially made garden for herbs. It is vertical, stores many pots and its design could fit any interior or exterior.
28. Window Box and Mason Jar Herb Garden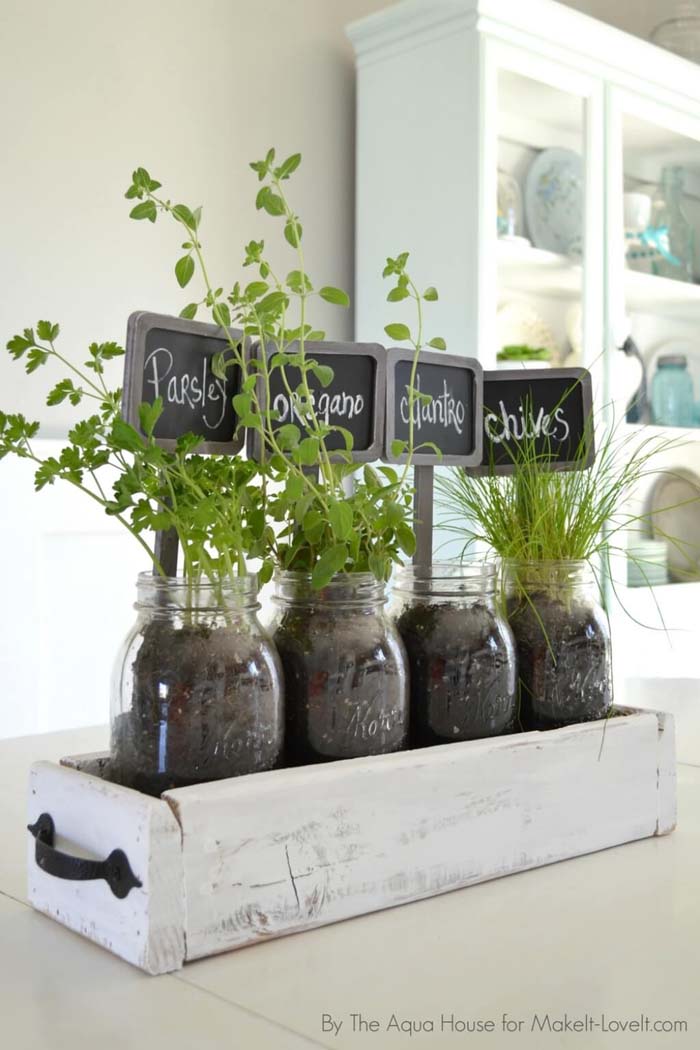 Some scrap wood, paint and Mason jars and you get a small herb garden sitting on a table inside or outside. You can also grow Ashwagandha.
Mostly grown in India, Ashwagandha has been used as a staple in Ayurveda medicine for thousands of years. It is renowned for its anti-inflammatory and antioxidant properties and is often consumed as a supplement rather than a tea, due to its bitter taste, although it can be enjoyed as a tea with a little sweetener.