By Jonathan Green
November 29, 2014 — 12.15am
history
Australia on Horseback: The Story of the Horse and the Making of a Nation
CAMERON FORBES
Macmillan, $44.99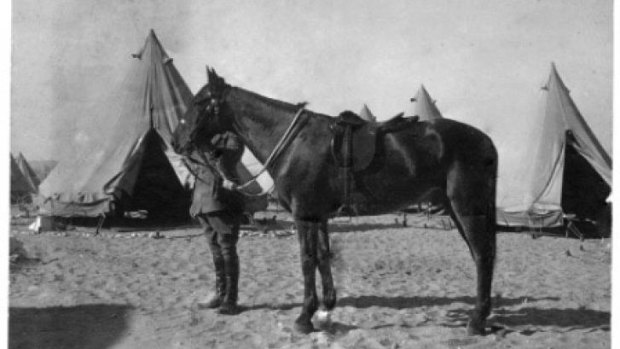 Horses in Australia
NICOLAS BRASCH
Newsouth, $49.99
A horse is not a dog. That's pretty much the key to it. The dog wins us over with an unblinking, loyal devotion, the horse by its unfathomable acquiescence. The dog, for all its big eyes and ball carrying, is a scrounger, a hanger on, a camp follower.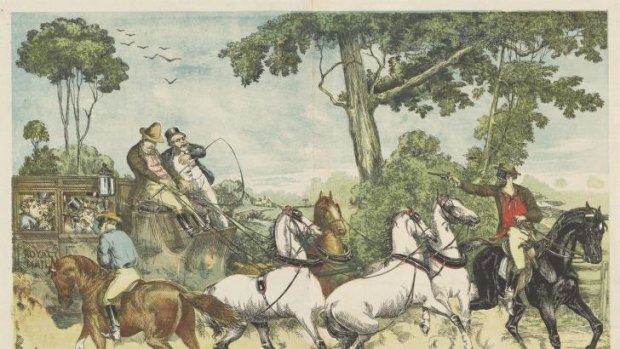 The horse's range of cross-species interplay stops short of lolling-tongued adoration, but it will turn its considerable strength uncomplainingly to all manner of burdens. Burdens that might aid its human partners in creating higher culture; be they the galloping rush of war or bending to the steady strain of harnessed cargo.
The horse is a doer. It makes an impression. Cavalry is all about speed, weight, and impact. A rider on a horse is elevated, commanding. The horse-borne venturer spares his legs and adds miles.
The horse also has a central role in the story of colonial Australia: a fetcher and carrier, tiller of fields, weapon of war, bearer of bandits, and exploratory vehicle; best supporting animal.
Cameron Forbes quotes explorer Ludwig Leichhardt in his abundantly referenced Australia on Horseback: The Story of the Horse and the Making of a Nation, the vanished adventurer recalling the unexpected advantage provided by the horse in early encounters between mounted Europeans and first Australians, encounters made fearsome by the indigenous assumption that horses shared the attributes of a more familiar semi-domesticated quadruped.
"The natives considered our animals to be large dogs, and had frequently asked whether they would bite (which I affirmed, of course); so that they themselves furnished us with a protection, which otherwise I should not have thought of inventing."
Native Australians would master first their instinctive apprehension and then, of course, the subtle ways of horsemanship, most famously in the working of stock loose reined in the outback's red dust, but first – and with ringing and tragic irony – in pursuit of their own people as deputised mounted trackers.
The violent and often fatal confrontation between white and black in the early years of colonial occupation absorbs the early chapters of Forbes' book, a work that takes the horse as a unifying device for various themes, vignettes and perspectives of the Australian story.
It's a hit-and-miss approach, not so much for the quality of the content as the convincingness, or otherwise, of that organising device: the horse.
Forbes says a lot about the early Black Wars of occupation, the massacres, and the random killings that cruelly cleared this country for "settlement". It's sad and shameful reading, and a solid contribution to the growing documentation of this long forgotten aspect of the Australian story. But it's a telling that sits a little oddly in this structure: a book that often rests its claim to be telling the story of "Australia on Horseback" on the recurring but thin coincidence that its cast of characters quite often arrive in a saddle.
The structural task is a simpler one for Nicholas Brasch in his Horses in Australia: An Illustrated History, a book that rests its narrative burden on "180 stunning images" as much as on the sometimes slightly hackneyed prose that accompanies them.
But Brasch tells a simple and fascinating tale, one that lacks an ambitious historical conceit of the type attempted by Forbes, but is the more straightforward – "from Cobb and Co to Black Caviar" – without it.
Both books have a single and considerable advantage, that there is most certainly a story to be told here: a neglected thread from a familiar weave of events. The tale of the horse in this country is sometimes cruel, sometimes heroic, sometimes simply a series of dull and dutiful events, but the horse's input has been an uncomplaining constant, a sentient subtext, a contribution for which we ought all fell a little tug of gratitude and wonder.
In the case of Forbes' work, the occasional fragility of the idee fixe is a quibble that fades as the book moves on through tales of exploration made possible by stumbling, emaciated but unstinting equine cooperation; of bushrangers who flash through the bush and towns on gleaming thoroughbreds of uncertain provenance; of gold rushes, war, and, eventually, naturally, the track.
Both books begin at the beginning, with the ponies of modest pedigree that huddled on the tossing decks of the Lady Penrhyn, an equally unassuming component of the First Fleet. The horses joined to convoy at the Cape of Good Hope and bedded down in the wind and wet and cold, stamping their hooves above the little ship's other cargo, the colony's first female convicts.
Brasch quotes the Account of Live Stock in the Settlement of May 1, 1788, for the colony's first equine headcount: one stallion, three mares and three colts.
Better stock would come in short order and steady quantity. By the turn of the 19th century a handful of imported thoroughbred sires were sowing the seeds of the Australian bloodstock industry, bloodlines that still fill the stables of racing trainers, and carry punters hopes.
They had utility, they were a thing of dull necessity, but horses also became sources of status and standing, objects to be prized and nurtured … or stolen.
It is when Forbes deals with his several tales of well-mounted bushranging that we get a sense of a quality of that old life that is hard to grasp with the modern sensibility of a mechanical – never mind digital – world.
This world of Ben Hall and Ned Kelly was one in which the horse was a key element: perhaps the most valuable possession, a necessary, essential component of daily life. And a living thing.
The relationship between human and horse is a tremendously complex and subtle one, a thing of the body, mind and spirit. It can be based on an instinctive affinity – one that was probably more common in the 18th and 19th centuries – but it must still be refined, cultivated, learned.
Clear communication between horse and rider is set in a series of mute riddles, a living braille, a subtle language of weight, hand, leg and will. All of it resting on the horse's strange but abundant desire to do what it can to divine human meaning and quietly offer co-operation.
A wonderful phrase from Forbes captures a sense of this depth: "Kelly has been described as eloquent on a horse." And in its way this quiet evocation of Kelly's graceful skill also sums the intention of these histories: to reveal a fresh aspect of the familiar.
So it is too with war and its loss.
For the horse perhaps the most tragic moment of our time together as Australians at home and abroad came in the First World War. Horses dragged guns and stores, dashed into hails of gunfire through some of war's last conflagrations of cavalry … and in the end?
Major General William Bridges, shot through the thigh in Gallipoli, was one of only two Australians whose bodies came home after the fighting of 1914-18, fighting that would kill more than 60,000. The other was an unknown soldier, now interred at the Australian War Memorial.
And Bridges' horse? Forbes tells the story: "Sandy, the general's charger, was one of 6100 horses shipped to the Middle East. Australian sent a total of 31,348 walers for overseas service with the AIF and another 81,987 to India. Sandy did eventually return, the only horse to come home."
At the going down of the sun, and in the morning …
* When Jonathan Green isn't riding Merlin he presents Sunday Extra on ABC R
The Australian Stock Horse (or Stockhorse), has been especially bred for Australian conditions. It is a hardy breed of horse noted for endurance, agility, and good temperament. Its ancestry dates to the arrival of the first horses in Australia, brought from Europe, Africa, and Asia. It is used today in a wide variety of disciplines, and is still valued as a working horse by stockmen and stockwomen throughout Australia.
History
The roots of the Australian Stock Horse date back to the earliest importation of nine horses to Australia, with the arrival of the First Fleet in Botany Bay in January, 1788.[1] Some of the original horse breeds in these early imports included the Thoroughbred, Cape of Good Hope Horse (largely descended from the Barb and Spanish horse), Arabian, Timor Pony, and Welsh Mountain pony.[2]
Horses in Australia were bred for their stamina and strength, with weaker animals culled and only the strongest allowed to breed. In the 1830s, additional Thoroughbreds were imported into Australia to improve the local strains, and the mid-20th century had infusions from the American Quarter Horse.
The Australian Stock Horse and the Waler horse come from similar roots, though today they are separate breeds. The "station horse" that was an ancestor of both breeds was used by the Australian Army in the First World War and was renowned for its toughness and endurance.[3]
However, the modern Australian Stock Horse differs from the Waler Horse in that it is not as big. The horses shipped abroad to fight in war and kept at home to be bred on as Walers were the larger animals, as they were required to carry a rider with the considerable extra weight of weapons and a full pack. Some of the heaviest animals were also required pull water carts and carriages. However, the characteristics of toughness and endurance remain with the Australian Stock Horse of today.
Formal recognition of Australian Stock Horses as a distinct breed began in June 1971, when over 100 campdrafters and horse breeders met in Tamworth, New South Wales, to form the Australian Stock Horse Society. Many of these people bred stock horses using bloodlines tracing back to native stock, along with some Arabians, Thoroughbreds, and a few ponies of outstanding merit. Most of the early ASH registrations were of horses bred with bloodlines that excelled at both campdrafting and cattle work in the rugged Great Dividing Range.
Initially, horses were inspected for registration by three classifiers, who assessed them for conformation, breeding, and athletic ability. The best were accepted for inclusion in the Stud Book, some were approved for the registry appendix, and those not meeting the criteria for registration were rejected.
Fourteen specific foundation sires are responsible for most of the bloodlines accepted into the Society Australia-wide, and most well-bred Australian Stock Horses trace to one of these foundation sires. These included horses bred from colonial stock: Saladin, Cecil and his son Radium, Medlow, and Bobbie Bruce. The others were Thoroughbreds; Rivoli, Commandant, Panzer, Midstream, Young Valais, Gibbergunyah, Bushfire, Silvius, and Deo Juvante also exerted considerable influence.[2] Since then Rivoli Ray, Abbey, Blue Moon Mystic, Eliotts Creek Cadet, Warrenbri Romeo, and some American Quarter Horses have also had a large influence on the breed.
The use of Quarter Horse bloodlines is somewhat controversial, with some breeders preferring to stay with older lines. Those who wish to bring in outside blood are required to pay very high fees to the society, thus providing an incentive for breeders to only bring in worthwhile horses.[2]
Characteristics
An Australian Stock Horse
The Australian Stock Horse is bred for intelligence, courage, toughness, and stamina. The horse will be sound, agile and quick moving with a sure-footed walk. It will have a calm, responsive temperament. All colours are acceptable. Height ranges from 14 to 16.2 hands (56 to 66 inches, 142 to 168 cm).
The ideal Australian Stock Horse is well proportioned in all respects according to its size. Desired traits include a finely cut, expressive head with large eyes and a broad forehead. The neck is long and arched, with the head well set on. The withers should be well defined. Overall conformation is well-muscled, but not bulky, with correct conformation that includes a deep chest, well-sprung ribs, a strong and broad back, and powerful hindquarters. The hooves are hard and well-conformed.
Breed today
An Australian Stock Horse competing in eventing
Around 190,000 Australian Stock Horses are registered or foals recorded with the Australian Stock Horse Society.[3] The Stock Horse is used in many competitive disciplines, including polo, polocrosse, dressage, campdrafting, show jumping, eventing, and endurance riding. It is also used for stockman challenges, Pony Club activities, general hacking, and stock work on cattle stations.
While horses are now often being replaced in the flatter Outback and Top End by motorcycles and helicopters, they are still necessary today for mustering (roundups) in rugged mountain terrain.
Public performances
A tribute to the Australian Stock Horse was held during the 2000 Sydney Olympics Opening Ceremony when an Australian Stock Horse reared and then another 120 Stock Horses were ridden into the stadium and performed intricate manoeuvres to the music of the specially written Olympics version of the main theme of the film The Man from Snowy River by Australian composer Bruce Rowland.[citation needed] The Australian Stock Horse Crown Law has represented Australia in World Championship and Olympic dressage competition.[citation needed]
As of March 2008, the Australian Outback Spectacular used 42 Australian Stock Horses in its show on the Gold Coast, Queensland, 31 of which were used in a show on a rotational basis.[4]
See also
Wikimedia Commons has media related to Australian Stock Horse.
References
Keith R. Binney, Horsemen of the First Frontier (1788-1900) and the Serpents Legacy, Volcanic Productions, Sydney, 2005, ISBN0-646-44865-XGower, Jeanette. "Australian Stock Horse History"""Australian Stock Horse Society"". Archived from the original on 2009-03-02. Retrieved 2007-03-17.
Horsewyse magazine, March 2008, p.8
External links
History
The Australian thoroughbred is a success story that is inextricably linked to the very development of the nation.
Indeed, the Australian thoroughbred breeding industry – now one of the biggest and strongest of its kind in the world – started with a stallion, three mares and three yearlings which arrived with the first European settlers in 1788.
From that small number, the industry has grown to a size second only to that of the United States. Tellingly, while Australian prizemoney has increased by 84% in the last decade, stakes have dropped by 4% in the United States. Australia currently conducts 60 races annually worth $1 million or greater, including the world's richest race on turf: the $15 million The Everest.
The first thoroughbred sire to be imported to Australia was Rockingham in 1799 and by 1880 a further 400 stallions had been shipped to the Australian colonies.
The Australian breeding industry is predominantly located across the eastern states of Queensland, New South Wales and Victoria, the island of Tasmania and the southern regions of South and Western Australia.
As strong as the industry is nationally, it is the Hunter Valley farms that are at its centre.
The farms of the region produce almost half the thoroughbreds born in Australia each year and the Hunter is home to the world's second largest concentration of thoroughbred studs.
Australia now has a mature, world-class breeding industry which exports horses to most racing nations in the world, particularly those in South-East Asia where about half the horses in training were bred 'Down Under'. They include Hong Kong superstars such as Rapper Dragon, Mr Stunning and Golden Sixty, along with Singapore legend, Rocket Man.
For the first 150 years of European settlement, the Australian thoroughbred population was dominated by English bloodlines. Stallions such as Musket (the sire of the great Carbine), Lochiel, Valais and Delville Wood are prolific in the pedigrees of the first half of the 20th century.
However, it was the Irish-bred Star Kingdom who did more than any other horse to shape the local breed after arriving in NSW in 1951.
Racing as Star King in England, Star Kingdom proved a perfect match for the local appetite for horses with speed ahead of stamina.
Star Kingdom sired the first five winners of the Golden Slipper (Group 1, for two-year-old horses) – Todman, Skyline, Fine And Dandy, Sky High and Magic Night. They made him the most sought after stallion in the land.
He was eventually crowned Champion sire five times, however his influence in the pedigrees of Australian racehorses was cemented forever as his sons and grandsons carved out careers at stud.
Oncidium, Better Boy and Showdown featured prominently throughout the 1960s and 70s, just as Sir Tristram – who stood in New Zealand – did in the 1980s.
However, due to the generous tax concessions afforded to Australian breeders by the Hawke government, Australia saw an influx of 'shuttle' stallions from Europe and North America, most notably the breed shaping, Danehill.
Standing in the Hunter Valley throughout the 1990s, Danehill's influence is still felt today. Danehill would win 9 premierships in his own right, while his sons and grandsons have captured 11 of the last 15 titles. Fittingly, Danehill was also crowned Champion Sire 3 times in Great Britain & Ireland and twice in France.
Notably, it was a grandson of Danehill in Choisir (by Danehill Dancer) that won the 2003 King's Stand and Golden Jubilee Stakes, Choisir's son, Starspangledbanner won the 2010 Golden Jubilee Stakes and Merchant Navy – by Danehill stallion, Fastnet Rock – captured the 2018 Diamond Jubilee Stakes.
A dual Group One winner of over A$1 million in stakes, Merchant Navy was purchased for $350,000 at the 2016 Inglis Australian Easter Yearling Sale. Merchant Navy currently shuttles between Coolmore's Irish and Australian operations, covering 402 mares in his first two seasons at a fee of $55,000.
Read about the history of Thoroughbred Breeders Australia in our book, 100 Years of Breeding
History of Thoroughbred Breeders Australia
1918 – A group of NSW based breeders formed a registered body called "The Bloodhorse Breeders Association of NSW" to represent the interest of breeders.
1945 – Over a 27 year period, The Bloodhorse Breeders Association of NSW acquired a number of interstate members, which ultimately this lead to the establishment of a new federal body called "The Bloodhorse Breeders' Association of Australia".
1945 – The Bloodhorse Breeders' Association of Australia was made up of state divisions, with representatives from each state making up the board. Mr Frank Thompson from Widden Stud was the first Federal President and remained in the Chair from 1945 to 1953.
1987 – As the state branches requested greater independence, The Bloodhorse Breeders' Association of Australia wound up to make way for the newly established federal body called "Australian Bloodhorse Breeders Association Limited" (ABBA)
1987 – The state divisions were officially incorporated as self-governing bodies.
1994 – Australian Bloodhorse Breeders Association Limited (ABBA) officially changed its name to Thoroughbred Breeders Australia Ltd (TBA).
2007 – Aushorse Marketing is established by TBA to specialise in marketing and promoting the Australian Thoroughbred industry both domestically and overseas.
Read more in the 100 Years of Breeding book
Images of mounted police contending with anti-lockdown protesters on the weekend have now gone viral around the world. In fact, mounted police have a long history in Australia.
They have certainly been used as a method of crowd control at countless demonstrations in living memory — from anti-war protests to pro-refugee rallies and everything in between.
But the history of mounted police in Australia goes much deeper.
---
Read more: Enforcing assimilation, dismantling Aboriginal families: a history of police violence in Australia
---
Mounted reconnaissance and messengers
In early colonial Australia, horses were at a premium. In the 1790s, policing of convicts and bushrangers in the confined region of the Sydney basin was conducted on foot by night watchmen, constables and the colonial military.
By 1801, the then Governor King formed a Body Guard of Light Horse for dispatching his messages to the interior and as a useful personal escort.
By 1816, at the height of the Sydney Wars of Aboriginal resistance, the numbers of horses in the colony had grown.
Their importance as mounted reconnaissance and for use by messengers was critical to Governor Macquarie's infamous campaign, which ended in the Appin Massacre of April 17, 1816.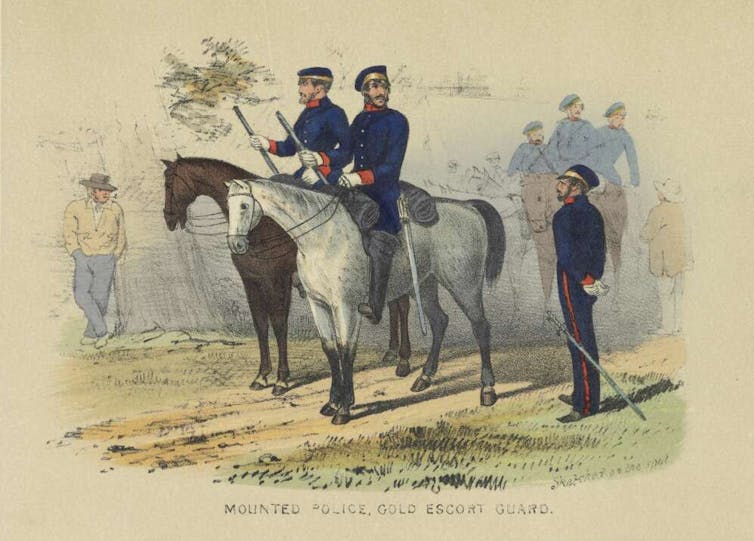 The horse as a key element of occupation
Along with firearms and disease, the horse was a key element in occupying Aboriginal land and controlling the largely convict workforce on the frontier.
In the early 1820s, west of the Blue Mountains, the use of horses in the open terrain of the Bathurst Plains was critical in capturing escaped convicts and bushrangers, as well as defending remote outstations against attacks from Wiradjuri people.
Early intrusions into Wiradjuri land were not so much by British colonists, but by the animals they brought with them. In what is now recognised as "co-colonisation", cattle and sheep did a lot of the hard yards for the British, often well before they arrived in Aboriginal lands.
In 1817, Surveyor General John Oxley thought he was well beyond the limits of settlement when, as he wrote:
to our great surprise we found the distinct marks of cattle tracks [that] must have strayed from Bathurst, from which place we were now distant in a direct line between eighty and ninety miles.
From a colonial cavalry to mounted police
During the first Wiradjuri War of Resistance between 1822 and 1824, calls were made to the colonial authorities for the formation of a civilian "colonial cavalry" to assist the beleaguered and overstretched military forces. My (Stephen Gapps) forthcoming book, developed in consultation with Wiradjuri community members in central west region of NSW, The Bathurst War, looks in deeper detail at this period.
It was hoped colonial farmers would be their own first line of defence against Aboriginal warrior raids on sheep and cattle stations.
Governor Brisbane wrote to London that in 1824 a mounted force was becoming "daily more essential [for the] vital interests of the of the Colony".
But by August that year, heavily armed and mounted settlers, overseers and their armed convict workers had decimated Wiradjuri resistance before a formal cavalry militia was established.
After possibly hundreds of Wiradjuri people had been massacred by heavily armed and mounted settlers, a "Horse Patrol" was created in 1825, which soon formally became the Mounted Police.
The Mounted Police were critical during a spree of bushranging soon after — a largely unanticipated side-effect of arming of convict stockworkers to defend themselves against Wiradjuri attacks in 1824.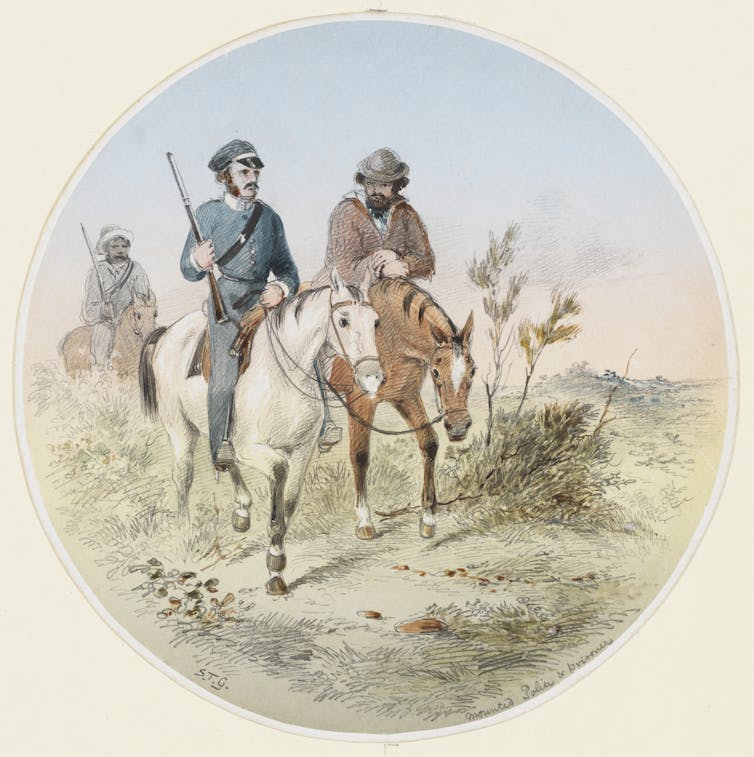 By the 1830s, the force had proved useful as a highly mobile quasi-military unit in combating Aboriginal resistance as well as bushranging.
As the colony continued to expand with an insatiable desire for running cattle and sheep on Aboriginal lands, three regional divisions were based at Bathurst, Goulburn and Maitland.
After conflict between colonists and Gamilaraay warriors on the Liverpool Plains, commander Major Nunn led a Mounted Police detachment on a two-month campaign around the Gwydir and Namoi Rivers, resulting in the Waterloo Creek Massacre on January 26, 1838. Armed colonists soon followed suit, ending in the Myall Creek Massacre in June that year, where colonists killed at least 28 Aboriginal people (possibly more).
The Mounted Police's military functions came with heavy expenses, which included uniforms, equipment and barracks. During the 1840s, a Border Police force of ex-convicts equipped only with a horse, a gun and rations was created and attached to Commissioners of Crown Lands.
It was funded by a tax on squatters (whose interests they protected) and proved a much cheaper policing option for the frontier.
The Native Mounted Police
By 1850 the "Mounted Police" were disbanded. Another relatively cheap and what proved to be a tragic, if remarkably successful, option had been found — the creation of a "Native Mounted Police" force of Aboriginal men with British officers.
The troopers were provided with uniforms, guns and rations. By the 1860s, particularly in Queensland, the main problem on the frontier was not policing colonists but stopping Aboriginal resistance. So arming Aboriginal fighters was part of a tried and tested British method of exploiting existing hostilities by rewarding those who collaborated and punishing those who resisted.
As Bogaine Spearim, Gamilaraay and Kooma man, activist and creator of the podcast Frontier War Stories has noted, the Queensland Native Mounted Police (NMP) were not only feared by bushrangers such as Ned Kelly, but known for their violence toward the Aboriginal population of Queensland.
The NMP united incredible bush skills with military capability. Their legacy has been the focus of a recent project by Australian researchers Lynley Wallis, Heather Burke and colleagues.
The role of animals in colonisation and policing
From 1850, the colonial police force (and then from 1862, the NSW Police force) incorporated mounted police as mobile units in mostly remote locations.
But they also found them useful in urban areas, especially with growing numbers of strikes, political disturbances, protests and riots in the rapidly industrialising cities in the late 19th century.
The use of horses in crowd control has a long history in policing, which itself has a long history in warfare. Among the other issues this presents, we might also consider horses' long suffering histories of being placed in the front lines of conflict.
Like the inexorable march of sheep and cattle as part of the invasion of Aboriginal lands, understanding the role of animals in colonisation and policing is crucial to a broader understanding of Australian history.
---
The Origins of Australia's Wild Horses
Kosciuszko's Snowy Brumby
Introduction
Each Brumby population has its own historic origins and heritage value. This document will
look at NSW's Kosciuszko Snowy Brumby, an image etched in many Post Settlement and
Aboriginal communities. Note: Other NSW Brumby population histories to come later.
The history of Kosciusko Brumbies began with the release of horses into the wild by early
European settlers. Over the years there have been many views and opinions expressed on
how the Brumby should be sustained and whether or not Brumbies should be there at all.
However many people now believe that we need to maintain a viable, sustainable number
within the environment and that any Brumbies removed must be caught humanely and be
offered to people skilled in rehoming Wild Horses.
If we all work together our Brumbies can be saved and retained as a living part of Australia's
social history and culture, such as in areas that are now covered by National Parks, and where
they have lived for over 200 years.
Australia's Brumby Heritage history
Horses arrived in Australia in 1788 with the First Fleet and became man's best friend in the
early years of European settlement in Australia. Early horse arrivals came mainly from Cape,
Barb horses, Thoroughbreds and Arabians breeds. The horses of Australia had to be tough,
strong and be able to survive the harsh climate.
By 1800 there were 200 horses in Australia; rising to 3,500 by 1820. The first report of an
escaped horse is in 1804. By 1850 the horse population had grown to 160,000, such was the
reliance settlers had on using horses for agriculture, transport, mining, police work and sport.
Many horses escaped or were released into the bush where they lived as Wild Horses until
they were captured and used as required. Ancestors of the modern day Brumbies were used
during the two World Wars as well as the Boer War in South Africa. Horses captured from
the wild were bred for the remount trade. During World War I a large number of remounts
used by the Light Horse troops came from the Snowy Mountains and NSW Tablelands and
The ABA thanks the contributions from The Victorian Brumby Association, Jaime
Levey and other ABA members.
Australian Brumby Alliance
(ABA)
Brumby Resource Information-2.12 | Australian Brumby Alliance Brumby Resource Information-2a.1 at 4-Mar-2016
became known as Walers (i.e. from New South Wales). Horses that were bred in the in the
wild proved to be calm and sure footed in domestic life.
The Brumbies we see in the NSW Kosciuszko highlands today are thought to have originated
from horses left behind when Sergeant James Brumby was transferred from Botany Bay to
Van Diemen's Land in 1806. The horses proved hard to catch from unfenced properties and
became known as Brumby's horses – eventually shortened to Brumbies. Men who left to go
to World War 1 let their working horses run wild, expanding the earlier Brumby gene pool
base, but many of the men never returned to catch them again after the War ended.
Settlers no longer needed horses when machinery began replacing working and army horses.
With the arrival of the Depression years and industrialisation, many locals simply opened
their gates and let their horses 'join the wild bush horses…' as Banjo Patterson described it.
After a century working for humans, and machinery taking over their work, many unwanted
horses were left to live a wild existence. Although many horses that were set free may not
have survived, the strongest did, and these became the ancestors of the present day Brumby.
Today's Brumbies are a window back into early settlement lives. A "living heritage" that we
need to manage sensitively for future Australian generations to experience and learn from.
Kosciuszko National Park
Historic overview
The Snowy Mountains region is thought to have had Aboriginal occupation for some twenty
thousand years. Large-scale intertribal gatherings were held in the High Country during
summer for collective feasting on the Bogong moth. This practice continued to around 1865.
The area was first explored by Europeans in 1835. Around 1840, high-country stockmen,
used the Snowy Mountains for grazing during the summer and their early experiences are
recounted in Banjo Paterson's The Man From Snowy River. Cattle graziers left a legacy of
mountain huts scattered across the area. In the 19th century, gold was mined on the high
plains near Kiandra and at its height, Kiandra had around 4,000 people and 14 hotels, before
ending up as a ghost town after the last resident left in 1974.
During 1906 the region became known as the National Chase Snowy Mountains, in 1944
Kosciusko State Park was proclaimed, then in 1967 the Kosciuszko National Park came into
being. The Snowy Mountains Scheme constructed between 1949–74, saw much of the area
explored and roads up-graded to build dams and tunnels across the Park in one of the world's
largest engineering projects.
The NSW National Parks and Wildlife Service (NSW NPWS) website explains that NPWS is
required to "protect native habitats, native fauna and flora and geological features within its
reserves. This includes the minimisation of impacts of introduced species, including Wild
Horses, on park values". This legal responsibility comes from State, Federal and international
legislation and agreements such as the National Parks and Wildlife Act, 1974 (NSW), the
Threatened Species Conservation Act, 1995 (NSW) and the Environmental Protection and
Biodiversity Conservation Act, 1999 (Commonwealth). UNESCO 'Man in the Biosphere'
and Ramsar listings, for example, must also be taken into consideration.
The Australian Heritage Brumby has served and died for us in war, carried us around
the outback, mustered stock and carried our kids to school.3 | Australian Brumby Alliance Brumby Resource Information-2a.1 at 4-Mar-2016
Kosciuszko's Heritage Brumbies
Freed settler horses reverted to natural selection and survival of the fittest. Unsound traits in
these horses could not survive the harsh Alpine terrain long enough to contribute to the gene
pool. 'Hot' or fiery tempered horses wasted energy, getting thin running around and so lacked
sufficient food reserves to survive winter snows, leaving the sound, the sane and the sturdy.
Ancestors of the Kosciuszko Brumby include both the early Brumbies caught and bred for the
remount trade, known now as Walers, those freed after industrialisation arrived and a mix of
other escaped horses, providing a wide variety of Brumby 'types'. Colours can range vastly
from bays and browns to roans, the sought after 'creamies' made famous by Eleyne Mitchells
Silver Brumbies series and the pintos. Kosciuszko Brumbies have evolved to cope with their
harsh climate, usually maturing between 13.3 and 15hh and of a medium to stocky build.
The Social life of the Naturalised Australian Brumby
Brumbies are truly Wild Horses, having for over 200 years been living by nature's laws of
natural selection and survival of the fittest. Horses living wild, by nature's tough rules, have
been re-wilded by once again returning to live as their distant ancestors once did before a
long period of being domesticated by humans.
Brumbies are very social animals and live together in family groups known as mobs, harem
groups or bands which vary in size from 2 horses up to around 11. The lead mare is the most
dominant female of the mob and searches out good food and water. All Brumbies are attuned
to any potential danger or attack. The lead mare will lead the group away from minor threats
with the stallion placing himself between the threat and his mob.
If the threat is extreme, the stallion takes the lead and the rest bolt after him. Brumbies have
their foals at a similar time of year to the domestic horse. In the Alps, this is between
September and November. Mares generally wander a small distance from the main Mob to
foal and return after up to a couple of days with their offspring.
When young colts are old enough to start showing interest in the mobs mares, the stallion
drives them away. The colts then form 'bachelor mobs', practice their fighting skills and
keeping an eye out for any mares that they can steal from other stallions. The fillies, in turn,
tend to peel away from the family mob as they reach sexual maturity, seeking out one of the
bachelor stallions to mate with.
Brumbies are also known for their even tempers, hardiness, versatility and good endurance.
DNA testing in NSW has shown that the Brumbies in the Guy Fawkes Park are less
than 5% inbred, in comparison with Thoroughbreds, who are around 20% inbred!
One of the most exceptional things about Brumbies is their ability to not only adapt, but
to thrive once domesticated. These once Wild Horses are renowned for their patient,
sociable temperament and their ability to bond closely with 'their' human mob.
Did you know – 57% of KNP is without horses – the remaining 43% has 6,000 [+/-
2,000] Brumbies living in 300,000ha (2014) (NPWS website) or an average of 50ha/horse.4 | Australian Brumby Alliance Brumby Resource Information-2a.1 at 4-Mar-2016
Brumbies tend to live in a particular area which is known as their home range. The size of
this area can vary from 5 to 20 square kilometres and is influenced by the availability of food
and water and the prevalence of other Brumby mobs in the area. Seasonal factors are also
important with many Brumby mobs grazing the higher areas of the snowies in summer and
moving to lower and warmer home ranges in winter.
Management of the Kosciuszko Brumby
Early settlers would catch and work local Brumbies as they needed them. More concerted
efforts to control Kosciuszko National Park [KNP] Brumbies began in the early 1970's with a
licensed horse roping running program, however due to concerns regarding the humaneness
of this practise on the Brumbies targeted, as well as the safety risks to the riders and their
horses and the health concerns for the brumby, this practice was banned in 1982.
Without traditional Brumby running and working the Brumbies, the total population tended
to increase. During the late 1990's when environmental impacts were noted, the less shy and
more visible Brumby was blamed, rather than more abundant, but less visible species.
Although many over abundant species, such as pigs, goats, deer, cats, dogs, rabbits etc. lived
in Kosciuszko's landscape, park authorities increasingly focussed on removing Brumbies in
an effort to reduce environmental impacts.
Population growth
The issue of how Brumby populations grow or contract is debated widely. Factors impacting
on Brumby numbers in Kosciuszko include; seasonal forage fluctuations, snow density and
depth, wild fires [the 2003 fires more than halved the Kosciuszko's Brumby population] and
the relationship of population density to an area's forage carrying capacity.
Foaling survival rates are used to predict population increases. However, emphasising foaling
rates alone fails to include natural attrition rates Brumbies experience from factors such as;
old age, injury, snake bites, dog attacks etc. and only inflate expected population increases.
.
Kosciuszko's National Park [KNP] Brumby Populations
KNP 2001-2020 horse populations/removals sourced from NPWS website;
2001: ACT/NSW/Vic (total ALPs) count estimated 5,200 horses [Dawson 2009]
2003: ACT/NSW/Vic count estimated 2,369 horses [Walter 2003]
2003: Total ALPs – 2500 KNP – 1500 Removed 49 (NPWS website)
2003-2006: Total ALPs – 5000 KNP – 2500 Removed 133 (NPWS website)
2006–2009: Total ALPs – 7679 KNP – 4237 Removed 362 (NPWS website)
2009–2012: Total ALPs – 9672 KNP – 4836 Removed 588 (NPWS website)
2012–2014: Total ALPs – tba KNP – 6000 Removed 1558 (NPWS website)
Note: Highest trapping rate NPWS have achieved to date is 670 in one year, costing $1,074/
horse trapped by National Park Authorities.
We need to begin objective, comprehensive research into all factors currently influencing
population dynamics in Kosciuszko National Park. These dynamics must to be understood
before we 'tinker at the edges', in an effort to effectively and humanely manage Brumby
populations at a viable and sustainable level for future generations to learn from.
The first Kosciuszko Horse Management Plan drafted in 2000 was finalised by 2003. Around
March 2016 a new draft Horse Management Plan for Kosciuszko's National Park [KNP] is to
be released for a two month community consultation process before the plan is finalised and
implemented. With the most recent count of about 6,000 wild brumbies roaming free, there is
a high risk of radical culling if an agreed Brumby population is not identified and managed.
An agreed population level could be, for example, where any negative impact is minimised
and the potential benefits are maximised. Comprehensive environmental studies need to be
conducted to measure the impact (if any) of brumbies at different density levels.
Sustaining Healthy Ecosystems
There is an urgent need to understand and identify components of each healthy ecosystem in
Australia, then work to protect those, rather than ad hoc targeting one highly visible species.
By focussing on one species without understanding how it interacts with other species in that
ecosystem we risk a flow on effect that may be extremely detrimental to other species. The
Sun Moth, requires short cropped grass for nesting, other bird and insect species rely on fresh
green grass. Short, green grass significantly lowers the fuel loads that wild fires thrive on.
Unfortunately, throughout history we humans have assumed we know best what should be
done, without stopping to consider all potential side effects. We introduced quick growing
grasses (later classifies as invasive species) to firm up the stream banks in Kosciuszko, then
began spreading across most Kosciuszko areas. We built the magnificent Snowy Mountains
Hydro system only to find that blocking natural spring floods from flowing downstream to
the sea has caused significant ecological damage. Such as the Murray River silting up and
preventing annual floods generating extra water that is essential to boost spring growth.
Balanced populations of all species inhabiting an ecosystem, including Brumbies, should be
within a tolerance range that allows landscape to seasonally regenerate. Research is needed to
identify at what stage the Brumbies home territory starts to loose seasonal integrity. The same
research must also identify what damage is caused by other animals, such as pigs, goats, deer,
cats, dogs, rabbits, including humans etc. also in the park.
There are several humane management tools the Australian Brumby Alliance accepts as one
of several to consider using in the toolbox for Brumby management for varying conditions;
 Passive trapping has excellent application in areas with good vehicle access, but can
be limited in others,
 Fertility control can be effectively used in areas with poor vehicle access,
Overseas research is increasingly demonstrating how the presence of Wild Horse
populations will in fact benefit, not detract from, an ecosystem's biodiversity, provided
their numbers are maintained at a viable, sustainable level – surely a win win!
Based on the most recent Wild Horse count for Kosciuszko's region of 6,000 in 2014,
from 4,237 in 2009 plus adding the 2,000 Brumbies removed during that period, we find
that the population increase was 11%. If we multiply 6000 (population in 2014) by 11%
the number of horses required for removal would 660 each year, a target already achieved
by NPWS passive trap program which has removed 670 horses in one year.
There is a high risk that the Brumby, which is highly visible, will be blamed, as most other
animal causing impacts are timid and move under cover of darkness or higher vegetation.6 | Australian Brumby Alliance Brumby Resource Information-2a.1 at 4-Mar-2016
 Slow aerial mustering is an appropriate occasional application in areas where there are
overabundant populations that need to be brought back to a viable, sustainable level,
 Exclusion fencing can protect smaller, highly sensitive areas with the added benefit
that vehicles are not able to access these areas either.
Note: The Brumbies caught should be made available for domestication by rehoming people
skilled in working with Brumbies and able to transport them in approved vehicles direct from
the wild to a new future. If Brumbies cannot be collected by skilled rehomers, it may then be
necessary to euthanize them on site, according to strict protocols, rather than trucking them in
bulk, enduring 2 or 3 truck transfers, over a thousand Kms, only to meet death an abattoir.
And finally … a few examples of Exceptional Brumby Achievements
 The Brumbies even tempers, hardiness, versatility and good endurance is well suited
to a wide range of activities including endurance racing, show jumping, stock work,
competitive trail riding, dressage, polocrosse and pony club.
 There have been exceptional brumbies that have done some amazing things, such as
Quigley who was captured and re-homed to be gentled, then went on to winning an
160km Tom Quilty Gold Cup endurance race against 250 other horses.
 A Brumby named Mickey Mouse competed in the Pony and Galloway Junior Show
jumping at the Sydney Royal Show. Being only 13.2hh he seemed small but could
easily clear jumps at 1.75m high and 1.8m wide. Mickey Mouse made it to the A
grade show jumping level of the Equestrian Federation of Australia and lived to 38
years old.
 A brumby named Hawkeye also won enough to become an A grade showjumper. He
won Grand Prix and was almost unbeatable in 6 bar competitions. He successfully
completed a World Cup Qualifier Show jumping competition at the Brisbane Royal Show.
Australian bush horses and riders
Legendary Australian horseman was one of Australia's 1960 Rome Olympics 3-day equestrian event champions. In his 80s, Neale continued to breed, ride and train horses.
A bush rider's Olympic story 15:27
The National Museum thanks Neale and Velma Lavis for their generosity and hospitality. All photos on this site are courtesy of Neale Lavis unless otherwise stated.
This online feature was first published in 2014, after curator Carol Cooper learned from her farrier that Neale was 'one of the best blokes' she was ever likely to meet. So began Carol's 2013 exploration of how Neale and 2 other Aussie farmers riding 'Australian ponies,' rose above the longstanding equestrian traditions of Britain and Europe to win gold at this prestigious event.
Neale Lavis
Neale Lavis (1930–2019) was born in Murwillumbah, north eastern New South Wales on 11 June 1930. He spent his earliest years on a banana plantation. Lavis's family then moved to a dairy farm at Bodalla on the far south coast of New South Wales. Lavis rode in his spare time, mustered cattle and competed in equestrian events at local shows. In April 1957, Lavis won the first 3-day event held in Australia at the Sydney Royal Show.
Selection for Rome Olympics
After his success at the Sydney Royal show in 1957, Lavis focused on representing Australia in the 3-day equestrian event at the 1960 Olympic Games in Rome. Lavis and his horse Mirrabooka made the team. They sailed to England to compete in the Badminton Horse Trials and Great Auclam International, in readiness for Rome. Disaster struck when Mirrabooka suddenly became lame 5 weeks out from the Olympics.
Victory at 1960 Rome Olympics
The 3-day event was held at an equestrian centre in the hills outside Rome. Mirrabooka performed well in the dressage and excelled at the difficult cross-country course, where teammate Bill Roycroft was injured and many riders retired. Lavis and Mirrabooka completed a clear round in the showjumping and the Australians won team gold. Lavis also won individual silver and recalled the raising of the Australian flag at the medal ceremony as one of his proudest moments.
After Rome
After Rome, Lavis met and married Velma. They had 4 children and Neale became a successful breeder of Hereford beef cattle and thoroughbred horses, including the Melbourne Cup winner Just a Dash. Lavis nurtured his love of bush riding and started a tradition of pack rides in the Snowy Mountains with friends. In 2014 he continued to breed racehorses and mentor young riders.
Generous mentor
Lavis was also a wonderful and prodigious mentor to his many friends and family and to the wider horse community. He remembered the support given to him in the past. Instances like the Moruya Pony Club fundraising before he went overseas in 1959, to give him the money to purchase a high quality Italian dressage and jumping saddle for use in Rome.
Over the years, Lavis gave generously of his time, teaching younger generations, and sharing the knowledge and skills that he has gained over a lifetime of bush and competitive riding, from buckjumping to high jumping, eventing and dressage at the highest national and international levels.
Rome medals and momentos
Neale and Velma Lavis generously welcomed Museum staff to their family property outside Braidwood, in New South Wales. They allowed the Museum to photograph, copy and borrow many precious horse-related objects and materials. These photos from 2013 and 2014 reveal more of Neale's horse story and the medals and mementos from his great bush victory at the Olympic Games in Rome.
Filming the Lavis story
Lavis generously allowed the Museum to copy precious family photos and personal 8-millimetre films showing his Olympic performances and preparation. This material was reworked for the Museum's film 'A bush rider's Olympic story'. These images were taken in December 2013, when Neale was interviewed about his life, and filmed riding his racehorse, Wattle Grove.
Sharing bush horse stories
Neale on a Snowy Mountain Ride