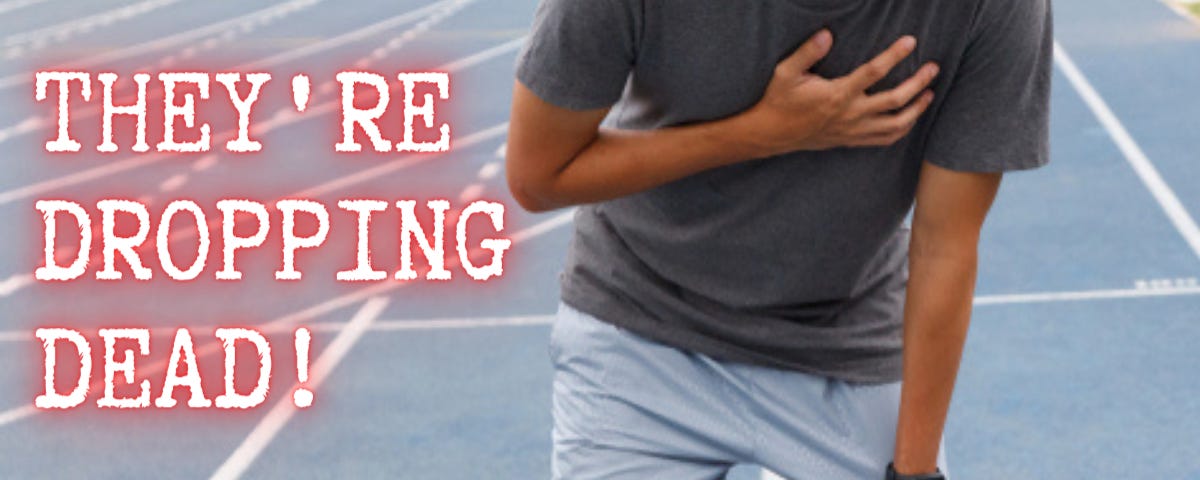 With time, more and more concerning data is being revealed relating to the so-called 'vaccines' that governments around the world forced on us.
While the fake news legacy media continues to parrot the hoary old "safe and effective" line, the reality on the ground tells a different story.
And now a relatively new study effectively links the jab to an uptick in athlete mortality.
How? Read on below to find out.
Globally, droves of otherwise completely healthy — and many young — people are dying from 'unexplained causes.'
Previous Nation First articles have shown many of the to be the result of the COVID-19 'vaccines'.
Particularly, mRNA 'vaccines' are linked to an increased risk of developing myositis, an autoimmune condition when the body starts attacking its own tissues; prion disease, a condition caused by the body's misfolded proteins, which, if not treated early, leads to a fatal outcome; cancer due to the 'vaccines' altering our genetics; and a whole host of other deadly conditions.
Naturally, this would result in a significant uptick in mortality rates and more and more data is surfacing that backs this up.
For instance, previously, we highlighted the 755% increase in excess child death in Europe since the 'vaccination' campaign started in the continent.
And now, another study has been published that shows an almost 1800 percent excess mortality among athletes since the start of the 'vaccination' program.
Looking at the data, between 1966 and 2004, there was an average of 2.35 unexplained deaths per month.
In contrast, data recorded between January 2021 and April 2022 shows a shocking average of 42 unexplained deaths per month.
Such a vast uptick cannot simply be attributed to natural causes and the exponential rise conceding with the start of the vaccination campaigns should not be ignored either.
Studies have shown that mRNA 'vaccines' can significantly weaken the heart and thus make a person more vulnerable to various cardiovascular diseases, especially myocarditis.
One study, for instance, found that the 5-year heart attack risk in those administered the vaccines went up by 227%.
In another example, medical records from the UK's NHS also show that ambulance call-outs relating to heart conditions have more than doubled since the COVID-19 'vaccination' program began.
Given the level of strain an athlete's heart has to undergo due to the nature of day-to-day training, it makes sense why athletes, in particular, are suffering from such an abnormally high excess mortality from the COVID-19 'vaccines.'
What other outcome save excess death can a rational person expect from 'vaccines' recommended and touted by Bill Gates?
Four of the biggest global health organisations dealing with 'vaccinations' have direct links to him, a man who has been quite a vocal supporter of world depopulation and who suggested that we could lower the global population by 10-15 % "if we do a really great job on new vaccines"?
God help us, and God bless you, your family and nation.
Take care,
George Christensen, with a Nation First staff writer
P.S. I'm suffering a bout of the dreaded 'man flu' right now — its much worse than COVID! — and so there will be no regular video tomorrow. Apologies in advance.
---

George Christensen is a former Australian politician, a Christian, freedom lover, conservative, blogger, podcaster, journalist and theologian. He has been feted by the Epoch Times as a "champion of human rights" and his writings have been praised by Infowars' Alex Jones as "excellent and informative".
George believes Nation First will be an essential part of the ongoing fight for freedom:
"The time is now for every proud patriot to step to the fore and fight for our freedom, sovereignty and way of life. Information is a key tool in any battle and the Nation First newsletter will be a valuable tool in the battle for the future of the West."

— George Christensen.
Find more about George at his www.georgechristensen.com.au website.
---
Authorised by G. Christensen, Te Kowai (Mackay)