Part 2
Wild horses killed in a place where they were supposed to be protected
19 September 2022 | Edwina Mason
Join the conversation33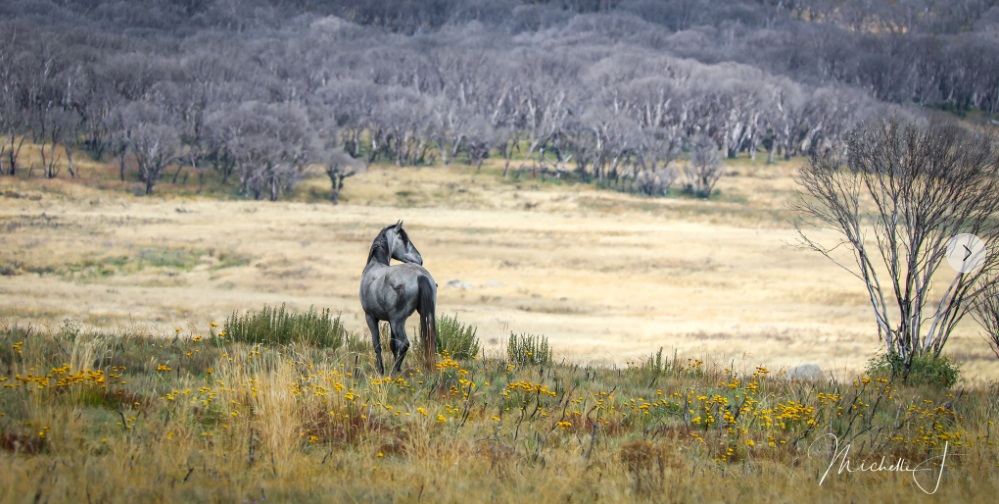 This photo of Arrowboy – one of the wild horses killed in the recent cull – in happier times. He earned his name after being shot with an arrow in 2020, a criminal action that led to two youths being charged with animal cruelty. Photo: Snowy Brumby Photography Adventures with Michelle and Ian.
CONTENT WARNING: This article uses images some readers may find distressing.
The recent shooting deaths of a mob of wild horses – several of them heavily pregnant mares – near Kiandra in Kosciuszko National Park (KNP) took place in an area in which they should have been protected.
Eleven wild horses with significant heritage value – known as Kiandra Greys – were slaughtered in what has been described as a highly organised professional ambush.
The discovery of their carcasses by a bushwalker last weekend 10-11 September has resulted in a public outcry over the action, which has been described as inhumane, with horses shot in their stomachs, mares spontaneously birthing or aborting their foals, another fleeing horse leaving a four-kilometre blood trail and the ears of some horses sliced off at the base.
Former MP Peter Cochran, a fifth-generation mountain cattleman and owner and operator of Cochran Horse Treks, told Region Media the shooting took place in a designated retention area under the Kosciuszko Wild Horse Management Plan.
Released in November 2021, the plan has a stated goal of reducing horse numbers in KNP from an estimated 14,380 to 3000 by 30 June, 2027.
According to Mr Cochran, extensive community and scientific consultation meant the plan also undertook to protect the heritage values of wild horses by retaining those remaining 3000 horses in 32 per cent of the park, in areas that are strongly associated with wild horse heritage values.
The Kiandra Greys, like their neighbouring counterparts – the Peppercorn Silver and Taffy horses, Currango and Long Plain roans and bays – were part of a lineage of horses derived from historic pastoral populations, all strongly represented among the legends and stories of the Snowy Mountains.
It's not the first time they have been under attack:
READ ALSO Brumbies shot with arrows in 'repugnant' attack
NSW Environment Minister James Griffin has defended the recent shootings, telling media the RSPCA found there was no animal cruelty as a result of the slaughter.
At the same time he has asked for an evaluation of the plan.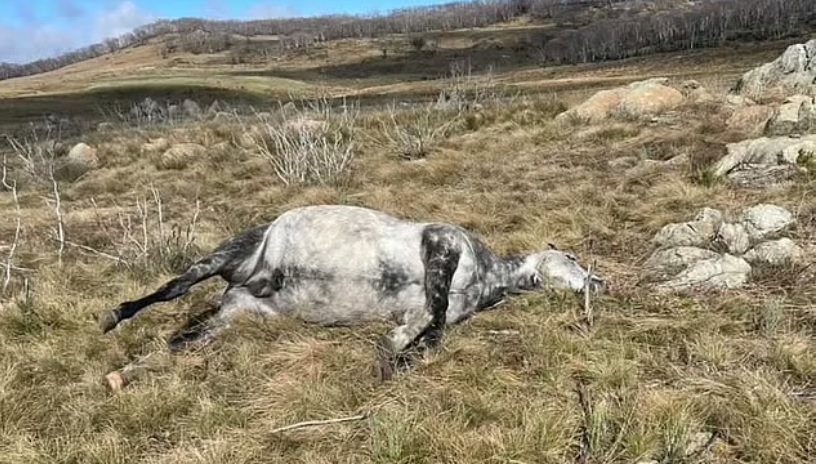 Among the dead were wild horses that had been shot in their stomachs, and mares that had spontaneously birthed or aborted their foals. Another horse left a four-kilometre blood trail and the ears of some horses were sliced off at the base. Photo: Snowy Brumby Photography Adventures with Michelle and Ian.
"Wild horse control is being carried out in line with the requirements of the Wild Horse Management Plan, which was approved in 2021," Mr Griffin said.
The Minister said the plan was the result of years of consultation with stakeholders who had a range of opinions, including wild-horse supporters, environmentalists and animal welfare groups.
The plan, he added, provided for the number of horses in KNP to be reduced over time to balance the protection of their heritage values while maintaining the exceptional conservation values of the national park.
"In response to concerns raised by some members of the community, I have asked for an evaluation of the plan's implementation, with the assistance of RSPCA NSW," he said.
Under the plan – where safety is paramount – all control measures are implemented according to strict operational safety standards and required to meet the highest possible animal welfare standards.
READ ALSO Threatened goanna 'accidentally' discovered in fire-impacted southern forest
But, according to the National Parks and Wildlife Service, to protect the safety of its staff, contractors and visitors, and the welfare of wild horses, operational details about control are not publicly released.
This has done nothing to allay concerns around public safety.
"The plan states that shooting is a method of last resort," Mr Cochran said, "and it stipulates that ground shooting should be used in areas of the park which have been closed to ensure safe implementation of ground shooting."
Locals say no such closure was enforced.
This week tourism operators were issuing warnings to guests as deer and wild horse culling operations moved to the Thredbo-Crackenback area.
This resulted in a last-minute ministerial freeze of the shooting cull while a review into public safety gets underway.
The Minister's office was contacted for further clarity on the RSPCA and public safety reviews but none was provided by the time of publication.
The NSW situation mirrors that of its Victorian counterpart after similar carnage involving wild horses in Victoria's High Plains resulted in the passing of a Victorian Parliament motion in favour of cancelling current, and planned, aerial and ground shooting of wild horses.
Victorian Environment Minister Lily D'Ambrosio has requested Park Victoria provide details of the recent shooting and hacking up of wild horses, and the burial of their carcasses under piles of branches, in the Bogong High Plains.
Comment by Nelle These are our beloved iconic horse who are legends renowned in poetry and film, heroes of the 1st World war and the above horses were killed in a protected area- we will never give up our fight to stop the criminally insane in govt from continuing with their barbaric acts
no animal is as cruel as man and he does it all for the almighty dollar