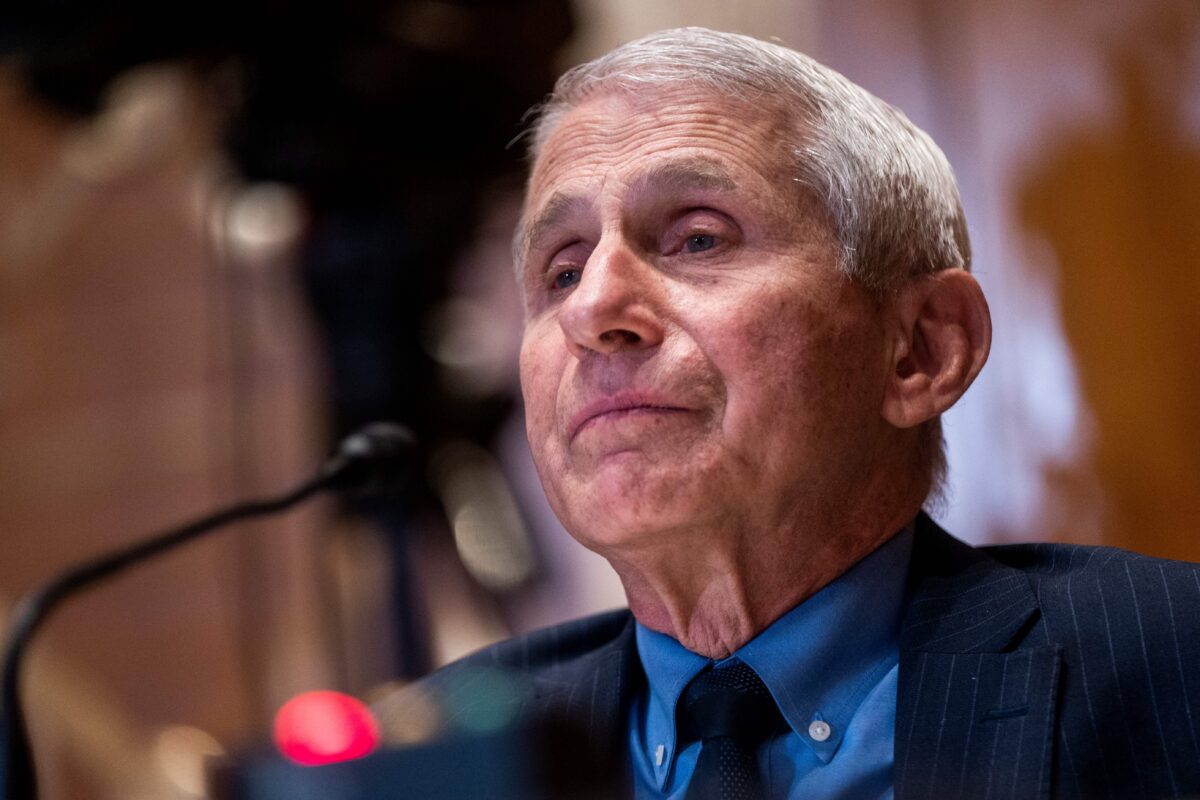 Are Health Officials Backtracking on COVID-19 Narratives?
BY Health 1+1 and Marina ZhangTIMEAugust 6, 2022PRINT
0:0017:39
Health officials have been making headlines in the news for their recent comments that seem to be reversing previous COVID-19 public health messages.
Both Dr. Anthony Fauci, director of the National Institute of Allergy and Infectious Diseases (NIAID) and former White House COVID-19 advisor Dr. Deborah Birx, admitted that the COVID-19 vaccines are not particularly capable at preventing infection, reversing previous COVID-19 narratives that asserted the vaccine prevented disease acquisition and transmission.
Birx said on Fox News July 22, that she "knew these vaccines were not going to protect against infection…I think we overplayed the vaccines."
This is a significant fallback considering that she promoted Moderna and Pfizer COVID-19 vaccines when both were granted emergency use authorization in late 2020.
"This is one of the most highly-effective vaccines we have in our infectious disease arsenal. And so that's why I'm very enthusiastic about the vaccine," Birx said on an ABC podcast at the time.
On that podcast, she made no mention of concerns the vaccines might not protect against infection.
Fauci and Birx also made statements showing their "open" minds regarding a laboratory leak as a possible explanation for the original source of the SARS-CoV-2 virus.
It appears that the messaging around COVID-19 health policies is opening up, or is it?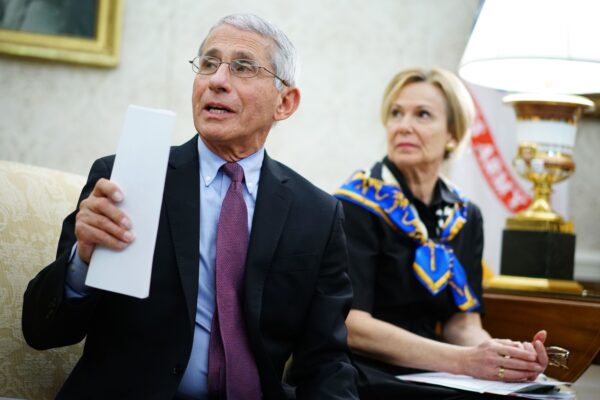 Changing Narrative Around COVID-19 Vaccines
Public health messaging regarding effectiveness of the COVID-19 vaccines has shifted throughout the two years of the pandemic.
"I think the whole COVID-19 vaccine program was over promised and it was too broadly applied. No vaccine against respiratory illness has been very effective in the history of medicine," Dr. Peter McCullough, cardiologist and co-author of The Courage to Face COVID-19 told The Epoch Times during a phone call.
He reasoned that the reversals by Fauci and Birx were to negate the broad claims health officials made at the start of the pandemic.
McCullough said that there were three major false claims in the overall COVID-19 vaccine narrative.
"The first claim was that the vaccine would stop the virus and people wouldn't get sick if they got the virus. That's never happened with an influenza vaccine or pneumococcal vaccine," McCullough said.
Even the American President Joe Biden claimed that the vaccine stopped people from getting COVID-19. His comments were later fact-checked by the Associated Press for exaggeration.
"The next false claim is that the vaccines would stop transmission," said McCullough.
In a statement released on March 2021, a few months after the initial vaccine rollout, the Centers for Disease Control and Prevention (CDC) stated that the vaccination program "interrupted chains of transmission."
However, papers were soon published showing that the amount of virus detected in vaccinated and unvaccinated people was the same. Since viral load is analogous to infectiousness, this finding indicated that transmission rates would be same regardless of vaccination status.
The director of the CDC Rochelle Walensky later released a statement in June 2021 stating that vaccines do not stop transmission.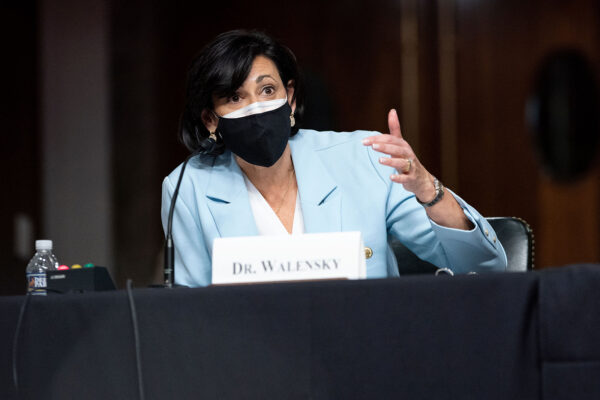 McCullough said that health officials are now down to their last few false claims including that the vaccines prevent hospitalization and death.
In the approval announcement for the Pfizer Comirnaty vaccine, the Food and Drug Administration wrote that "the vaccine is effective in preventing COVID-19 and potentially serious outcomes including hospitalization and death."
In New South Wales, a state in Australia, over 96 percent of people over 16-years-old have received two COVID-19 vaccine doses, of which, 69 percent have received a third dose. However, the state's health statistics show that the majority of hospitalization, ICU admissions, and deaths have occurred in the vaccinated demographic (pdf), with the majority occurring in people who had three or four vaccinations.
"There's never been a randomized trial where hospitalization and death have been reduced by the vaccine…the only thing we've had is a series of biased papers that don't account for prior immunity or for early treatment [which reduces hospitalization and death]," said McCullough.
Despite findings from other countries that indicate that the vaccine may not be reducing hospitalization and mortality risks, this claim has persisted in the United States.
Dr. Pierre Kory, a pulmonologist and critical care specialist, and the president and chief medical officer of the Front Line COVID-19 Critical Care Alliance, gave an anecdotal explanation for why the hospitalization agenda is still going strong.
"When a patient enters a hospital and they show their [COVID-19] vaccine card…although they (the hospital) will enter the data of the vaccine card, it's (the vaccination status is) buried in a nursing note. On the main screen, which categorizes them as vaccinated or unvaccinated, in many of the systems they go in as unknown," Kory told The Epoch Times.
The few patients that do get submitted as "vaccinated" are those that got vaccinated by a doctor in that healthcare system.
"So I will tell you that the vast majority of patients in the hospital have an unknown vaccination status, and that's interpreted as unvaccinated, and that is why the CDC is constantly pumping out this data showing all this protection…I cannot prove that, although I've seen that with my own eyes, and I have colleagues who've seen it."
A major narrative of COVID-19 vaccines that has seen changes is vaccine efficacy.
When initially released, both Pfizer and Moderna promised over 95 percent efficacy, with over 90 percent efficacy in stopping COVID-19 transmission and symptomatic infection 6 months after the second dose.
However, once the Delta and Omicron variants emerged, the effectiveness of COVID-19 vaccines waned dramatically.
Studies found that up to 6 months after the second dose, the efficacy of the Pfizer vaccine against symptomatic infections dropped to 80 percent. Moderna dropped from 74 percent efficacy against the Alpha variant to 67 percent for Delta.
Once the Omicron variant arose, studies showed that efficacy against symptomatic infections fell to negative values six months after receiving two doses of either Moderna or Pfizer vaccines.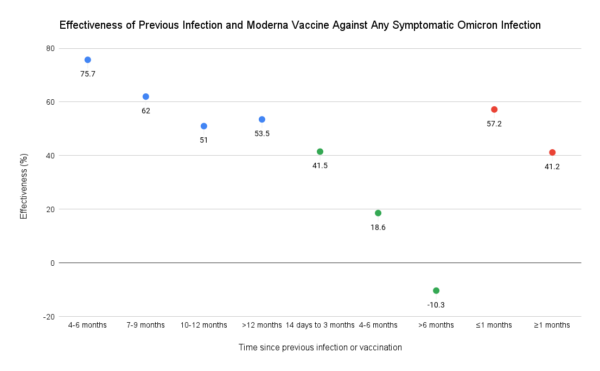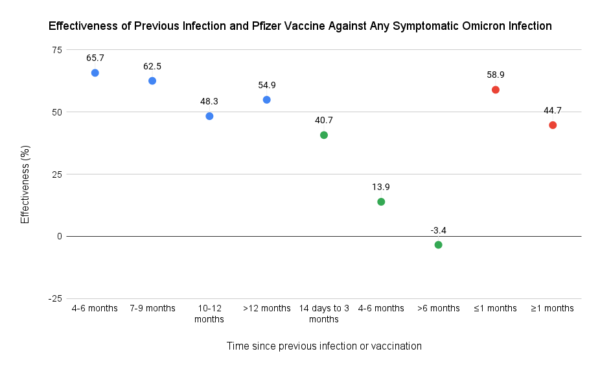 Backtracking on COVID-19 Messaging
Apart from vaccine usage, Fauci's recent media commentary also contradicted previous messages on vaccine safety and COVID-19 immunity.
Both Fauci and Birx recently made news when they conceding that the vaccines were not very effective at preventing infection.
Fauci admitted that the vaccines do not protect "overly well," against infection, though he argued that it offered good protection against severe disease.
Birx implied that the researchers knew from the beginning that the vaccine was not very effective at protecting against infection.
Kory said he was surprised at Birx's admission, calling her concession a "small crack in their very consistent narrative."
"They've employed multiple narratives, but this actually does backtrack on one of the original narratives…they've been saying for several months that the vaccines protected [against the virus], and now to hear that they knew that they weren't, I think that's pretty remarkable."
Fauci also acknowledged the menstrual irregularities observed in vaccinated women.
"Well, the menstrual thing is something that seems to be quite transient and temporary, that's one of the points," Fauci said in an appearance on Fox News on July 25. "We need to study it more."
His comments drew criticisms from obstetricians and gynecologists who have been observing severe cases of menstrual irregularities.
Dr. Christiane Northrup, a former fellow of the American College of Obstetricians and Gynecologists accused Fauci of discounting "the experience of thousands of women," by dismissing the cases with "we need to study it more."
"Unfortunately the menstrual problems we are seeing are far from transient and temporary. Many women have been bleeding daily or having heavy, irregular, painful periods for an entire year. And some of these are well past menopause. Something is way off here," she told The Epoch Times.
Kory speculated that Fauci's small admissions are "tactical," and dismissive rather than a sign to engage in open, and honest scientific discussion.
"I still think it's in the service of covering up this catastrophe. They've been dead wrong on innumerable policies," Kory said. "I don't see this as any concerted effort to be more honest or to show more integrity."
McCullough speculated that officials are "backtracking because they know that the data are overwhelming refuting the false claims, and that public opinion has turned against the vaccines."
Congress and Senate inquiries into vaccine safety have also exerted pressure on the health agencies.
Senator Ron Johnson (R-WI) released a statement on March 24, 2022 announcing that he had sent 36 letters to the federal health agencies including the Department of Health and Human Services (HHS), FDA, CDC, and NIAID health officials on vaccine oversight.
McCullough disclosed that Johnson has since sent many more letters but has been "stonewalled" by the health agencies.
The same day the interview with Fox News was released, Fauci was also seen making a surprising acknowledgement on The Hill that natural immunity indeed protects against COVID-19, despite strong assertions from the CDC presenting vaccinated immunity as preferential and better.
"We were always aware that if you get infected, you have a degree of protection against reinfection," Fauci remarked in the video released on July 25.
He later said that the protection afforded by natural immunity and vaccination "wanes over a period of time," which is "very, very different" from other infections like polio, smallpox, and measles.
Fauci claimed that individuals who have been infected and vaccinated have the best protection, describing that phenomenon as "hybrid immunity."
However, a study published on the New England Journal of Medicine (NEJM) has shown very little difference between infection reduction in hybrid immunity and natural immunity.
Dr. Tracy Høeg, a physician based in California and an consultant epidemiologist for the Department of Health in Florida, tweeted on June 23, 2022 that the NEJM shows that "natural immunity (A) provides greater protection than vax (B) against future infection, but it [the study] calls into question the very idea of "hybrid immunity;" an extra vax dose (C) doesn't seem to add much to nat[ural] immunity."
https://platform.twitter.com/embed/Tweet.html?creatorScreenName=EpochTimes&dnt=true&embedId=twitter-widget-0&features=eyJ0ZndfdGltZWxpbmVfbGlzdCI6eyJidWNrZXQiOlsibGlua3RyLmVlIiwidHIuZWUiXSwidmVyc2lvbiI6bnVsbH0sInRmd190d2VldF9lZGl0X2JhY2tlbmQiOnsiYnVja2V0Ijoib24iLCJ2ZXJzaW9uIjpudWxsfSwidGZ3X3JlZnNyY19zZXNzaW9uIjp7ImJ1Y2tldCI6Im9uIiwidmVyc2lvbiI6bnVsbH0sInRmd190d2VldF9yZXN1bHRfbWlncmF0aW9uXzEzOTc5Ijp7ImJ1Y2tldCI6InR3ZWV0X3Jlc3VsdCIsInZlcnNpb24iOm51bGx9LCJ0Zndfc2Vuc2l0aXZlX21lZGlhX2ludGVyc3RpdGlhbF8xMzk2MyI6eyJidWNrZXQiOiJpbnRlcnN0aXRpYWwiLCJ2ZXJzaW9uIjpudWxsfSwidGZ3X2V4cGVyaW1lbnRzX2Nvb2tpZV9leHBpcmF0aW9uIjp7ImJ1Y2tldCI6MTIwOTYwMCwidmVyc2lvbiI6bnVsbH0sInRmd19kdXBsaWNhdGVfc2NyaWJlc190b19zZXR0aW5ncyI6eyJidWNrZXQiOiJvZmYiLCJ2ZXJzaW9uIjpudWxsfSwidGZ3X3R3ZWV0X2VkaXRfZnJvbnRlbmQiOnsiYnVja2V0Ijoib2ZmIiwidmVyc2lvbiI6bnVsbH19&frame=false&hideCard=false&hideThread=false&id=1536510838907215873&lang=en&origin=https%3A%2F%2Fwww.theepochtimes.com%2Fare-health-officials-backtracking-on-covid-19-narratives_4646119.html&sessionId=023a07ac1ca9a36e6decdbedf823d3db24c7d339&siteScreenName=EpochTimes&theme=light&widgetsVersion=2d66c323e5620%3A1660322279126&width=550px
Comment by Nelle- we can only hope and pray these criminals are held to account