A countdown to another recession has begun. There's a worrying financial hole that will be hard for Australia to get out of.
David Llewellyn-Smith
3 min read
Current Time 0:05
/
Duration 3:53
'We are very concerned for the Solomon Islands': PM Morrison
Prime Minister Scott Morrison says "we are very concerned for the Solomon Islands". "We are very concerned for the broader security in the South West Pacific," Mr Morrison said on Thursday. "Other leaders that I've been in regular contact, are equally concerned."
ANALYSIS
Australia's countdown to another recession has begun.
Gone are the days of extended Australian business cycles. In this Covid cycle, speed and volatility are the defining features over yesteryear's great moderations.
The culprit is inflation and our central banks' reaction to it.
The majority of Australia's inflation surge is still coming from offshore. 40 per cent of the Australian economy is tradeable (such as mining and agriculture) and is exposed to international prices, and it is leading the charge.
Tradeables and inflation
Tradeable prices are up 2.8 per cent quarter and 6.8 per cent annually.
Non-tradables, such as tertiary education and new homes, are up 1.8 per cent quarter and 4.2 per cent annually.
In seasonally adjusted terms, tradeables rose 2.7 per cent and the non-tradables rose 1.6 per cent.
Non-tradeables have begun to warm up too but note that the definitions are not strict. For instance, the largest non-tradeable item, new home prices, is dramatically affected by the price of tradeable materials.
Likewise, just about everything is eventually impacted by the rising costs of fuel and transport.
Rising fuel prices impact the cost of almost everything. Picture: NCA NewsWire / Morgan Sette
This is important to note because the majority of the inflation surge is coming from the supply side of the global economy as war, plague and deglobalisation run amok. These have been made worse by our own natural disasters.
So, central banks everywhere have become restive and are shifting to tightening. Emerging markets have already been lifting interest rates for over a year and have slowed considerably. Goldman Sachs has a useful index of financial conditions that shows the impact. It is already at recessionary levels for the global economy: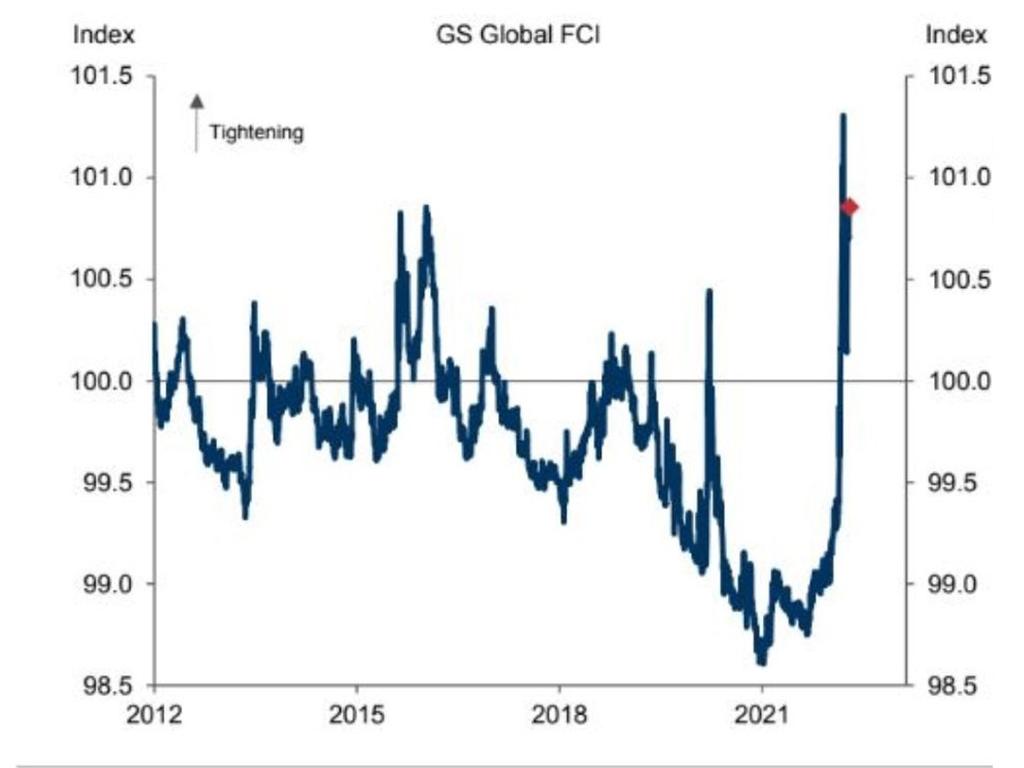 The global economy is already at recessionary levels. Source: Goldman Sachs Investment Research.
Those with additional headwinds like China are already in recession, their unemployment rates are climbing and inflation is already falling.
The same is now coming to developed markets where the central bank tightening is being led by the US because inflation has taken root much more swiftly and deeply. Its central bank has more work to do to catch up to a runaway cycle.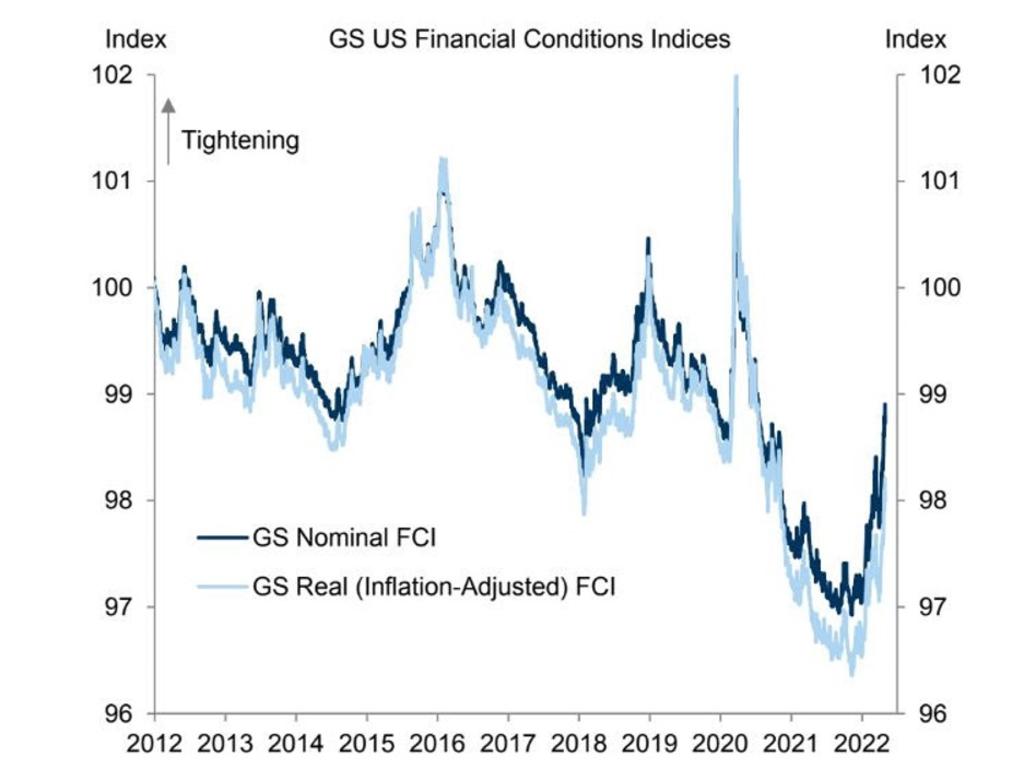 Inflation has taken root swiftly and deeply in the US. Source: Golman Sachs Investment Research.
The danger is that the Fed is so far behind the inflation curve that its drive to catch up over the next few months with jumbo 50 basis points hikes will tighten financial conditions very fast via a combined bond, stock, and commodity market rout (all of which have begun).
Especially so, when we add that the world's three largest economies are in shock at once. China is being rocked by its property and Omicron bust. Europe is being rocked by the war and energy shock. And the US is being rocked by its inflation and interest rate shock.
When considering how the balance of growth, inflation and interest rates will shift in the year ahead, the first observation to make, then, is that global growth is already slowing fast and that the risks are rising that it slows even faster.
In Australia's case, there are some special circumstances that make this context dangerous. Growth is good right now. But over the next year or so, there is already an embedded rate hiking cycle that is unusually steep before the RBA moves at all.
It is the roll-off of pandemic fixed-rate mortgages from around 2 per cent to variable rates that are already nearly double and projected to go much higher. Nor is it a small number. $500bn of resets are scheduled which is roughly a quarter of Australia's total mortgage book.
House prices are obviously going to fall. Quite quickly in Sydney and Melbourne. But everywhere before long. We know what that does to demand in Australia's two largest economies because every time that we've seen a house price correction, such as 2001, 2008, 2012, and 2019, demand in NSW and VIC crumbles shortly afterwards.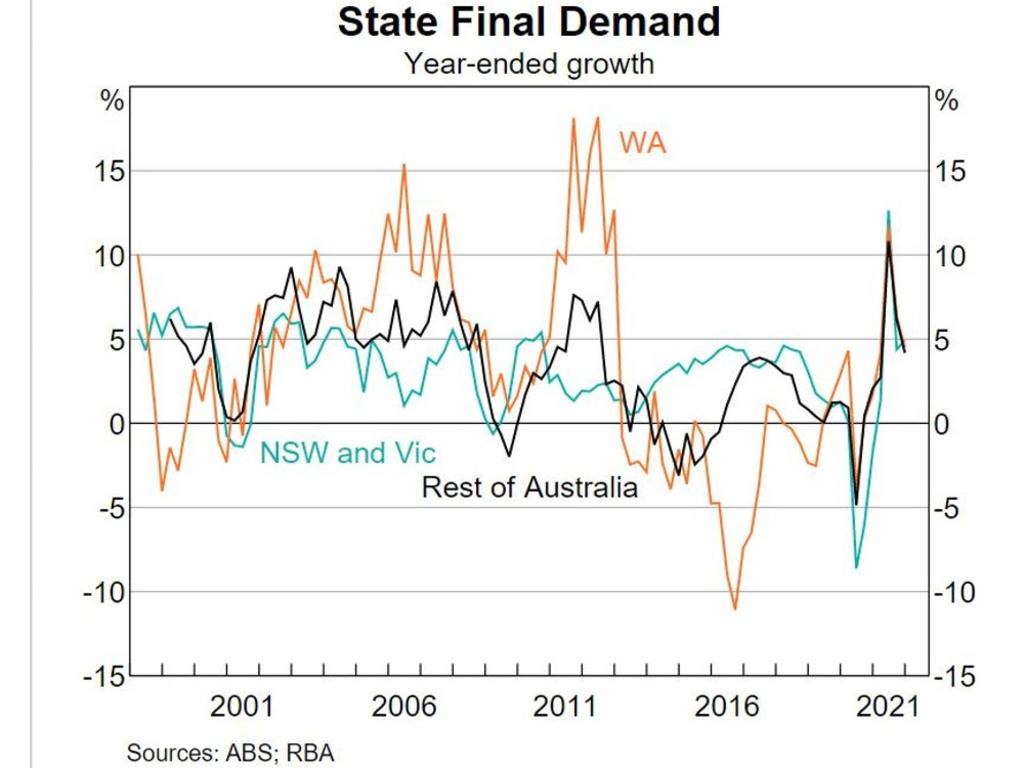 Aussies cop first rate rise in 11 yearsSign Australia could be making a big mistake
It will not get far.
David Llewellyn-Smith is Chief Strategist at the MB Fund and MB Super. David is the founding publisher and editor of MacroBusiness and was the founding publisher and global economy editor of The Diplomat, the Asia Pacific's leading geopolitics and economics portal. He is the co-author of The Great Crash of 2008 with Ross Garnaut and was the editor of the second Garnaut Climate Change Review. MB Fund is underweight Australian iron ore miners.