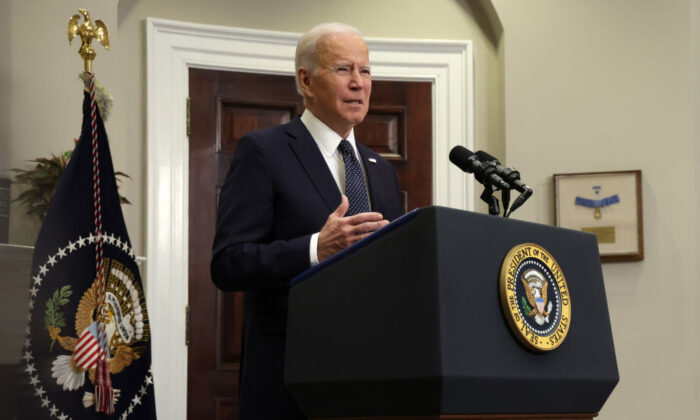 The US Administration's Ukrainian War Mongering
Gabriël Moens Augusto Zimmermann
February 20, 2022Updated: February 20, 2022
Commentary
For many weeks now, the President of the United States Joseph Biden, his Security Advisor Jake Sullivan, and Secretary of State Antony Blinken have been telling the world that "it is certain that Russia will invade Ukraine," that an "invasion is imminent," that "it might occur any time before the end of the Winter Olympics," and it "may happen even within the next couple of hours," or that Russia is seeking to create a "false flag" operation to justify the invasion.
Blinken even reported on Feb. 18 that the invasion of Ukraine is "unfolding now." Members of the Biden administration have speculated that Russian President Vladimir Putin is waiting for the snow to solidify prior to ordering the invasion of Ukraine.
Certainly, Russia has assembled a formidable army at the north, east, and south border of Ukraine and, together with its ally, Belarus, is threatening to invade its former member of the Union of Soviet Socialist Republics (USSR).
Following a referendum, which disclosed an overwhelming desire to join the Russian Federation, Russia annexed the region of Crimea in March 2014—an annexation that has not yet been recognized by any Western country.
Russia also supports self-government for the Donbas (Donetsk and Luhansk) region of Ukraine, a mainly Russian-speaking region to the east of the country, bordering Russia.
At the time of writing, the long-anticipated full-scale Russian invasion has not eventuated. Putin and members of his inner circle have repeatedly indicated that Russia does not want to start a European war.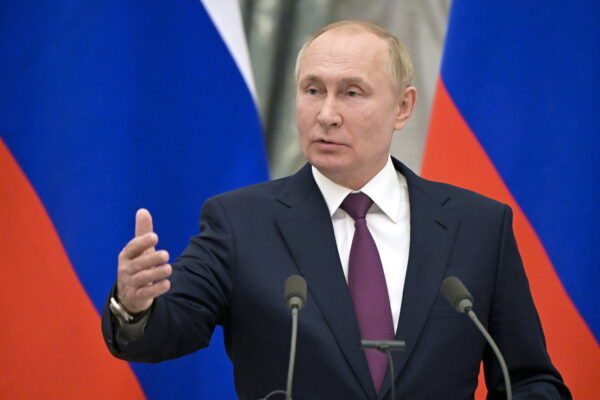 Putin is displeased about the unwillingness of the North Atlantic Treaty Organization (NATO) to refuse to guarantee that it will never expand eastwards and that Ukraine, Georgia, and Belarus will not become members.
Putin has also demanded that NATO reduce its military presence in Central and Eastern Europe to 1997 levels. Putin wants written guarantees, but NATO is reluctant to make such a commitment.
Neither NATO nor the United States proposed to send troops to Ukraine to bolster the local defenses and help in the war effort.
The NATO alliance is an anemic organization, with Germany as its weak link since it relies on Russian gas for its energy needs. Gas supplies could easily be cut off if there were to be a conflict between the West and Russia.
In 1962, during the Cold War, the world faced a similarly dangerous situation, when the USSR installed nuclear missiles in Cuba—which neighbors the United States.
Faced with that looming threat, then-American President John F. Kennedy ordered the naval blockade of the island, lifted only when the Soviet Union withdrew their missiles from Cuba.
Just as the United States did not accept, in 1962, the Soviet threat along its border, in this new kind of "New Cold War," the present Russian president is not willing to tolerate an American military presence at Russia's doorstep.
Faced with the possibility of Ukraine joining NATO, Putin has deployed around 150,000 troops to the border, claiming that the American influence over Ukraine threatens his country's national security.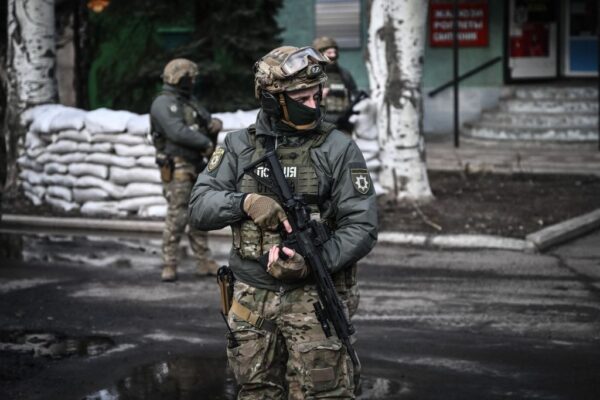 Russia claims it has the sovereign right to station troops anywhere on its territory and, in turn, denounces the massive supply of weapons to Ukraine by the American government. Trucks and planes full of weapons arrive in Kyiv daily from various countries, including the European Union and the United States.
Since the disintegration of the former Soviet Union, Ukraine has been oscillating between Western and Russian influence, with governments supported either by one or the other.
Nevertheless, despite both Russia (and the Ukrainian authorities) continuing to rule out an invasion, the Biden Administration continues to say that an invasion of Ukraine is "imminent."
Unlike the pursuit of a diplomatic solution, which would require the end of American influence and acceptance of Ukraine's military neutrality, any military conflict in the region would allow the Biden administration to impose unprecedented sanctions on Russia.
Further, Putin is allied to the People's Republic of China. Beijing would certainly not stand in the way of an invasion because it underscores its view that nations are entitled to use military force to compel renegade provinces to return to their homeland.
Indeed, Beijing's view is that an invasion of Ukraine would facilitate, even justify, an invasion of Taiwan, thereby snuffing out its independence and democracy.
It is instructive to look at the role that Biden plays in this rapidly escalating drama. His repeated refrain that war is imminent is a classic example of war mongering which increases the possibility of war and is being repeated so often that even reasonably intelligent people would start to believe it.
Considering Biden's rhetoric, people would even be surprised if Russia withdrew its forces, numbering close to 150,000 soldiers, from the Ukrainian border.
More importantly, Biden's statements are hugely irresponsible because they paint Putin into a corner: if he were to invade, he would prove Biden right, but if he orders the withdrawal of the Russian troops, he would be described as weak, and it would adversely affect his standing in the volatile Russian political arena.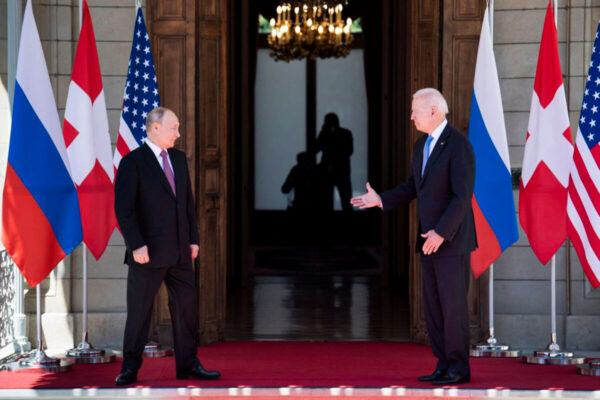 Biden also threatened Russia with significant penalties of an economic, financial, and investment nature that would ruin the already weak economy of Russia.
In addition, even though Biden initially indicated that the United States would not be militarily involved in the conflict, either directly or indirectly, he has already sent about 3,000 troops to Poland to prop up the safety of its European allies.
He also described any war initiated by Russia as a "war of choice," which would be started by an aggressor state.
This leads to the question as to what kind of international response to the crisis would help to defuse the tensions.
Biden's repeated refrain raises the expectation that a war in Europe is an inevitable certainty. The statements of the U.S. president take on a life of their own. If there were no invasion, his statements would amount to an unfulfilled prophecy.
Of course, this is not to suggest that Biden should have embraced the language of appeasement. In this context, one is reminded of the ill-fated visit of the Prime Minister of the United Kingdom, Neville Chamberlain, who in 1939 went on a peace mission to Germany to avoid war in Europe when Hitler threatened to annex the Sudetenland.
Although Hitler got what he wanted, Chamberlain triumphantly returned to London, waving a piece of paper, and stated that the German Chancellor had agreed to "peace in our time."
The policy of appeasement did not prevent, and may even have anticipated, the coming of World War II because Germany detected the inherent weakness in the UK's position.
Of course, Biden focuses on the perceived threat posed by Russia since it may deflect the attention of the American public from domestic problems such as the alarming crime rate and creeping inflation hitting another historical benchmark.
Considering his dwindling approval ratings, redirecting the focus from domestic policies to international instability seems to be a clever strategy ahead of the midterm elections.
Fortunately, on Feb. 13, the Ukrainian government announced that it might abandon its intention to join NATO to avoid a military confrontation with Russia.
In a statement to the BBC, the Ukrainian ambassador to the United Kingdom, Vadym Prystaiko, stated that his country would be more "flexible" about joining NATO, adding that Ukraine is a "responsible" country.
To conclude, the best thing to do in these troublesome times is to convincingly oppose any war threats without confirming that war is inevitable. It is always useful to remind that belligerency will be followed by international condemnation. Biden's irresponsible talk of a Russian attack in the "next several days" is certainly making the situation worse. Such statements deliberately escalate tensions and do not facilitate a more diplomatic solution to the current conflict.
Views expressed in this article are the opinions of the author and do not necessarily reflect the views of The Epoch Times.
Follow
Gabriël A. Moens AM is an emeritus professor of law at the University of Queensland, and served as pro vice-chancellor and dean at Murdoch University. In 2003, Moens was awarded the Australian Centenary Medal by the prime minister for services to education. He has taught extensively across Australia, Asia, Europe, and the United States. Moens has recently published two novels "A Twisted Choice" (Boolarong Press, 2020) and "The Coincidence" (Connor Court Publishing, 2021).
Follow
Dr. Augusto Zimmermann is professor and head of law at Sheridan Institute of Higher Education in Perth. He is also president of the Western Australian Legal Theory Association, editor-in-chief of the Western Australian Jurist law journal, and a former law reform commissioner in Western Australia.
RECOMMENDATIONS FOR YOU