China's Foreign-Sourced Ice Hockey Team Suffers Crushing Defeat to US on Olympic Debut
By Eva Fu
February 11, 2022Updated: February 11, 2022
China had put its Olympic hockey hopes on a team composed of mostly foreign-born players. But reality hit hard on their debut.
On Thursday night before 1,000 spectators, the Chinese hockey squad, packed with foreign-born recruits from the United States and Canada, was beaten 8-0 by a fresh-faced U.S. team.
For some, the outcome was not surprising. Ice hockey is not a popular sport in China. When Beijing won the right to host the 2022 Games seven years ago which gave it automatic qualification for the sport, the country had never competed in a men's Olympic hockey match and was the lowest-scoring team to ever qualify for such an event.
Beijing's solution was to source talent from all around the world. Of the 25 players in the men's hockey squad, 14 were born or raised in the United States and Canada, and one other is from Russia. The women's team, facing the same problem, recruited 13 out of 23 from overseas. All of the foreign players were christened a Chinese name after their conversion.
Related Coverage
China Bets on US-Born Athletes to Boost Beijing's Olympic Gold Medal Drive
The International Ice Hockey Federation allows players to represent a country if they've lived and played in a league there for two years. So a new Chinese team, HC Kunlun Red Star, was formed in 2016 to join Russia's pro-league the Kontinental Hockey League, to field these new men's players for China. China doesn't have its own professional hockey league.
The team has had a lackluster performance over the past few seasons. In fact, the players' competence was so concerning that the International Ice Hockey Federation seriously considered dropping the Chinese national team out of the Olympic Games, even though that would have been a major slap in the face for China, the host nation.
"Watching a team being beaten 15-0 is not good for anyone, not for China or for ice hockey," president of the sport's governing body, Luc Tardif, told AFP in September.
The National Hockey League's 11th-hour decision to skip the Beijing Olympics over COVID-19 was a boon to China. Although Thursday night's defeat, at the hands of a U.S. team filled with the youngest American hockey players in decades, showed that perhaps the absence of the best North American rivals made no difference after all.
In contrast with the treatment handed to Zhu Yi, a U.S.-born figure skater representing China whose several falls on the ice made her a target for a torrent of online abuse in the country, the hockey team had an easier time on Chinese internet.
"By standing on the Olympic platform and displaying their presence, these young fellows have already made history," read a newspaper article overseen by the Communist Party branch in Shanghai. It said that the players had showcased their "courage, determination, and fighting spirit" on the world stage, but "unfortunately, the gap between the two teams' strength was indeed too huge."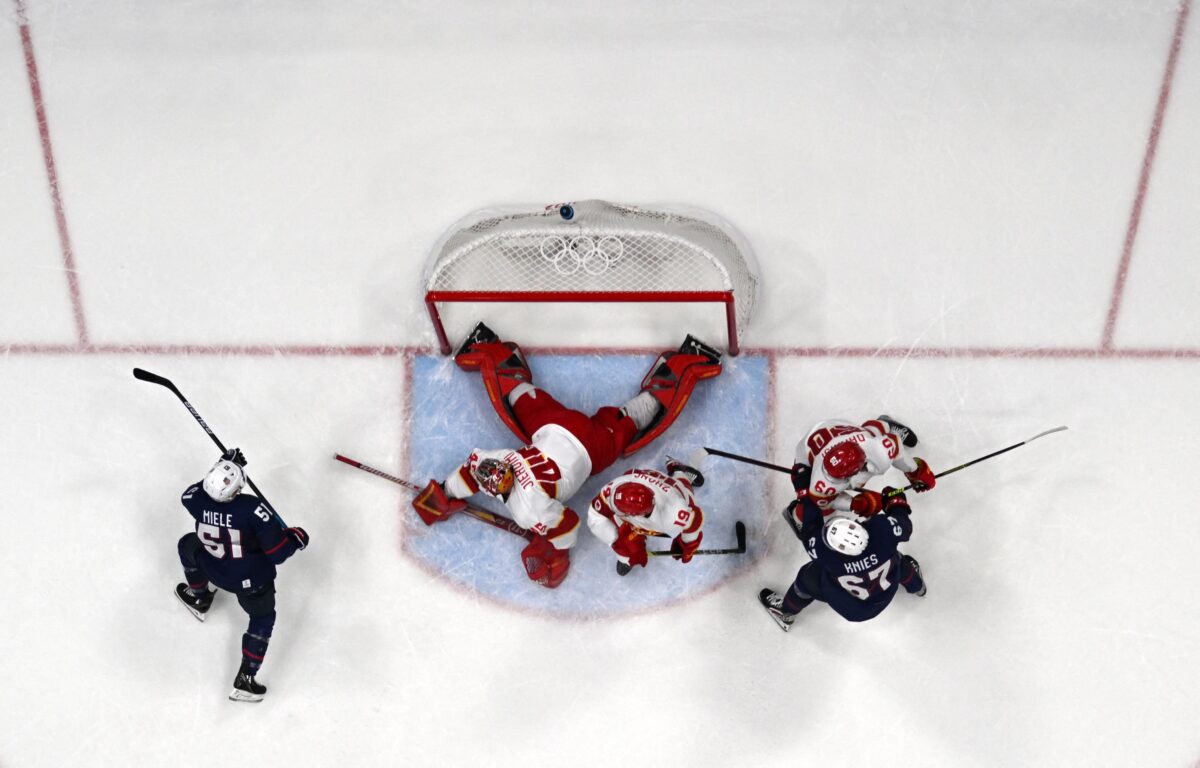 While China doesn't allow dual citizenship, it seemed to have relaxed the rules this time around and did not strictly require players to relinquish their foreign passport to join the Chinese team.
Goaltender Jeremy Smith, born in Michigan, said he was never asked to renounce his U.S. citizenship.
For some of the players, though, getting on the Olympic platform was more than enough.
"Of course I said yes," Smith told The Associated Press, when recalling being presented a two-year contract to play for China. "I think it's an honor to play in the Olympics. But to dream of playing for the host city in the Olympics, I didn't ever think there would be a chance for me in my lifetime."
Yip, the Canadian-born team captain who played 174 games in the National Hockey League, also shared the sentiment.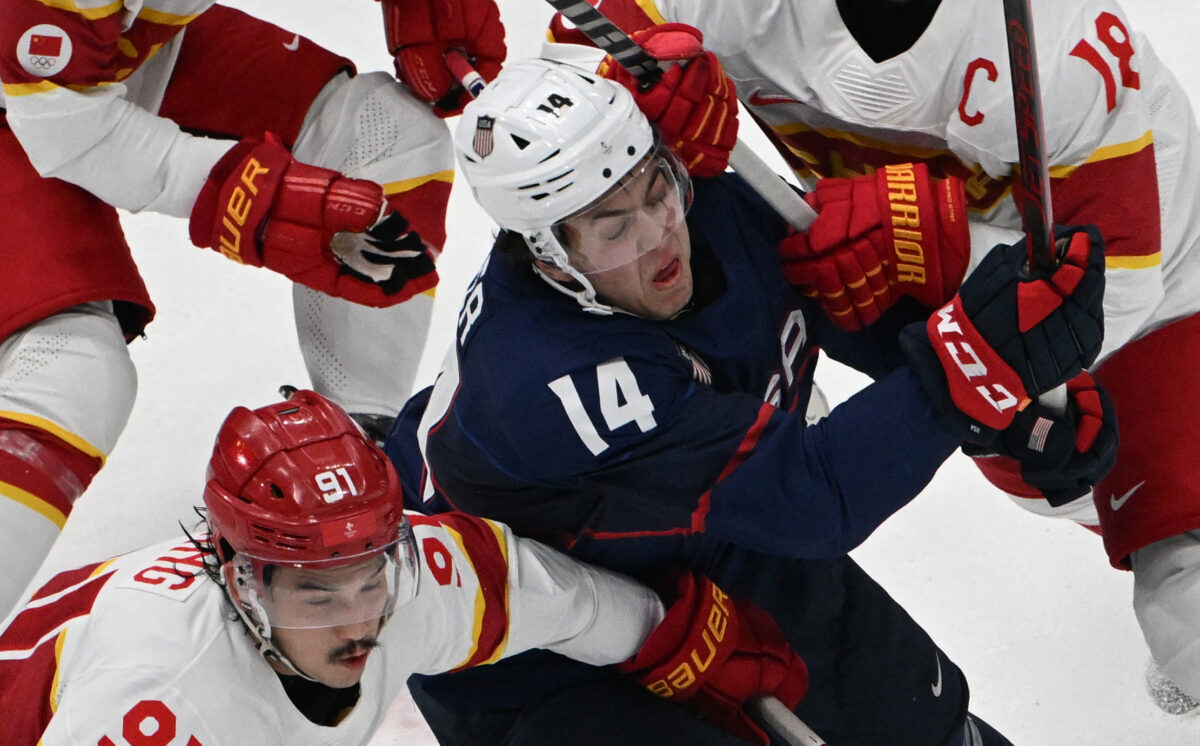 Related Coverage
Beijing Olympic Judges Accused of Favoritism Over Rulings Leading to Gold for China
"I'm almost 37 years old, and my professional career is coming to a close," Yip, competing under the name Ye Jinguang, wrote on Chinese social media Weibo two days before the debut.
"Stepping on the ice at the Olympics is our dream of a lifetime," he went on, adding that he will make efforts to make the world remember he was there.
"We were excited, it's been a long time coming," said Yip following the defeat. He said they "had a great start" but then "made too many defensive mistakes."
Even steeper challenges lie ahead. Their next opponents over the weekend will be Germany and Canada, ranked the world's fifth and first respectively.
China Reporter
Follow
Eva Fu is a New York-based writer for The Epoch Times focusing on U.S.-China relations, religious freedom, and human rights. Contact Eva at eva.fu@epochtimes.com
Support Honest Journalism
The Epoch Times is an independent, unbiased, nonpartisan and non-profit news organization. Your subscription will not only provide accurate news and engaging features, but will also help our reporting stay this way. If you can, please support us for just $1 and help us continue independent journalism. Thanks you for your support!
Subscribe now $1 for 2 months