It's 1932 and Australia is in the grip of the Great Depression.One in three workers are unemployed.Decrepit shanty towns hug the outskirts of the big cities.A scrawny rabbit caught in a trap will feed a family for a week.Country roads are filled with broken men walking from one farmhouse to another seeking menial jobs and food.On the outskirts of the South Gippsland town of Leongatha, an injured farmer lies in bed unable to walk – or work.World War I hero Captain Leo Tennyson Gwyther is in hospital with a broken leg and the family farm is in danger of falling into ruins.Up steps his son, nine-year-old Lennie.With the help of his pony Ginger Mick, Lennie ploughs the farm's 24 paddocks and keeps the place running until his father can get back on his feet.How to reward him?Lennie has been obsessively following one of the biggest engineering feats of the era – the construction of the Sydney Harbour Bridge.He wants to attend its opening.With great reluctance, his parents agree he can go.So Lennie saddles up Ginger Mick, packs a toothbrush, pyjamas, spare clothes and a water bottle into a sack, and begins the 1000+ kilometre trek to Sydney.Alone.That's right.A nine-year-old boy riding a pony from the deep south of Victoria to the biggest and roughest city in the nation.Told you it was a different era.No social media.No mobile phones.But even then it doesn't take long before word begins to spread about a boy, his horse and their epic trek.The entire population of small country towns gather on their outskirts to welcome his arrival.He survives bushfires, is attacked by a "vagabond" and endures rain and cold, biting winds.When he reaches Canberra he is welcomed by Prime Minister Joseph Lyons, who invites him into Parliament House for tea.When he finally arrives in Sydney, more than 10,000 people line the streets to greet him.He is besieged by autograph hunters.He becomes a key part of the official parade at the bridge's opening.He and Ginger Mick are invited to make a starring appearance at the Royal Show.Even Donald Bradman, the biggest celebrity of the Depression era,requests a meeting and gives him a signed cricket bat.A letter writer to The Sydney Morning Herald at the time gushes that "just such an example as provided by a child of nine summers, Lennie Gwyther was, and is, needed to raise the spirit of our people and to fire our youth and others to do things – not to talk only."The sturdy pioneer spirit is not dead … let it be remembered that this little lad, when his father was in hospital, cultivated the farm – a mere child."When Lennie leaves Sydney for home a month later, he has become one of the most famous figures in a country craving uplifting news.Large crowds wave handkerchiefs.Women weep and shout "goodbye".According to The Sun newspaper, "Lennie, being a casual Australian, swung into the saddle and called 'Toodleloo!'".He finally arrives home to a tumultuous reaction in Leongatha.He returns to school and soon life for Lennie – and the country – returns to normal.These days you can find a bronze statue in Leongatha commemorating Lennie and Ginger Mick.But Australia has largely forgotten his remarkable feat – and how he inspired a struggling nation.Never taught about him in school?Never heard of him before?Spread the word.We need to remember – and celebrate – Lennie Gwyther and his courageous journey.It's a great story.God knows we need these stories now, more than ever.Stolen from Garry Linnell's article in The New Daily
Lennie Gwyther's solo ride from Leongatha to Sydney remembered
THREE words reverberated inside Beryl Ferrier's head ahead of the unveiling of a statue of Lennie Gwyther, her older brother, in Leongatha at the weekend.
ALEXANDRA LASKIE
2 min read
October 13, 2017 – 1:17PMThe Weekly Times1 comments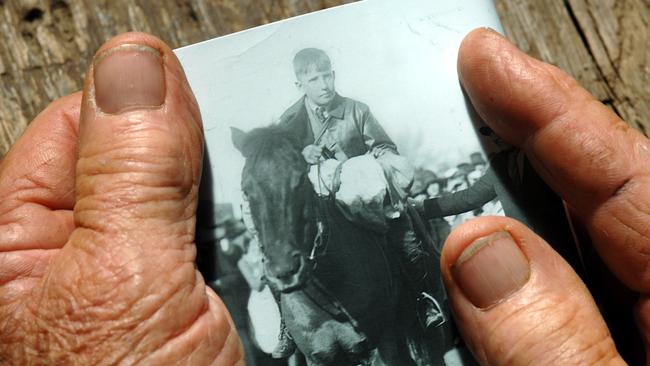 75th Anniversary of the Sydney Harbour Bridge Opening. Copy picture of Lennie Gwyther who was 9 when he rode 1400kms from Leongatha to Sydney.
THREE words have reverberated inside Beryl Ferrier's head ahead of the unveiling of a statue of her older brother this weekend.
"Lennie lives on," Mrs Ferrier says.
The 92-year-old arrived in Leongatha yesterday from her home on the Gold Coast to witness her late brother Lennie Gwyther and his pony Ginger Mick immortalised in bronze.
The boy from Koonwarra captured the hearts of the nation in 1932 when he rode Ginger Mick from his family's farm near Leongatha to witness the opening of the Sydney Harbour Bridge at the age of nine.
The bridge is 663km as the crow flies from Leongatha, but 925km-plus by the modern road, depending on the route taken. Lennie's credited as having ridden 1000km to get there.
Mrs Ferrier says Lennie's fascination with the bridge, construction of which began when he was in primary school, grew with him, and he had always dreamt of attending the opening.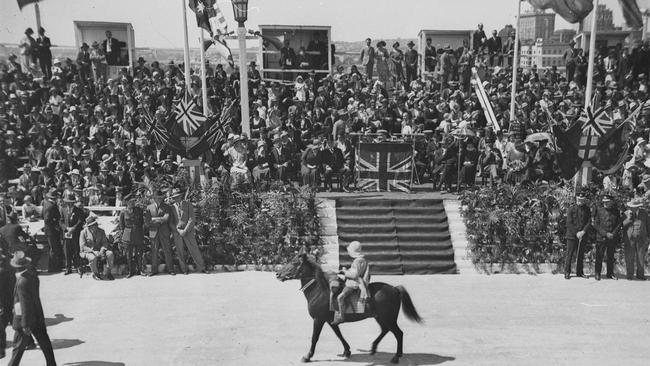 Lennie Gwyther and his horse Ginger Mick were greeted in every town as they travelled from Gippsland to Sydney for the 1932 opening of the Sydney Harbour Bridge.
When their father Leo Tennyson, a World War I hero with significant war wounds, was treated for a broken leg in Melbourne, Lennie took over many of his farm duties, saving the season's crops. Upon his father's return, he asked Lennie how he would like to be rewarded for his efforts. His reply was permission to ride to Sydney along a route he would map himself.
Lennie's 33-day solo journey was closely followed by the press, ensuring he and Ginger Mick were feted along the way, including at stops in Lakes Entrance, Cooma and Bowral.
Such was the interest in the young man's voyage that he shook then-prime minister Joseph Lyons' hand and took tea in the members' refreshment rooms while passing through Canberra, and Lennie and Ginger Mick were mobbed by the press and the public when they trotted into Sydney's Martin Place.
"I'm bowled over by it all, it's grown into such a big thing," Mrs Ferrier says.
"My brother would always say it was no big deal, such was the nature of the time. He was very reticent to put himself forward.
"He had confidence, and the fortitude to solve his own problems and overcome obstacles, and to follow his dreams."
His ultimate dream was to build a yacht and sail it to Tasmania, "but unfortunately fate intervened before it was finished, when cancer caught up with him in 1992," she says.
He had just turned 70.
Hundreds of people are expected to flock to Leongatha for the official launch of the statue in Centennial Park on Saturday.
The day will be a momentous one for former South Gippsland Shire mayor Bob Newton, who was the brains behind the idea to perpetuate Lennie's "incredible" story for future generations.
"No one had bothered to do anything," Mr Newton says with disbelief.
"I just thought it was a great thing for a young fellow to do at nine years of age. The younger generation wouldn't be able to do anything like that today. They're amazed at what this young fellow achieved."
Mr Newton fought for years to rally enough money and support for the statue. Over three years he and a committee mustered $50,000, enabling them to commission a foundry in Dandenong to make the life-size effigy of Lennie in the saddle.
"This is everlasting," he says. "It will put Leongatha on the map. It's a wonderful story."